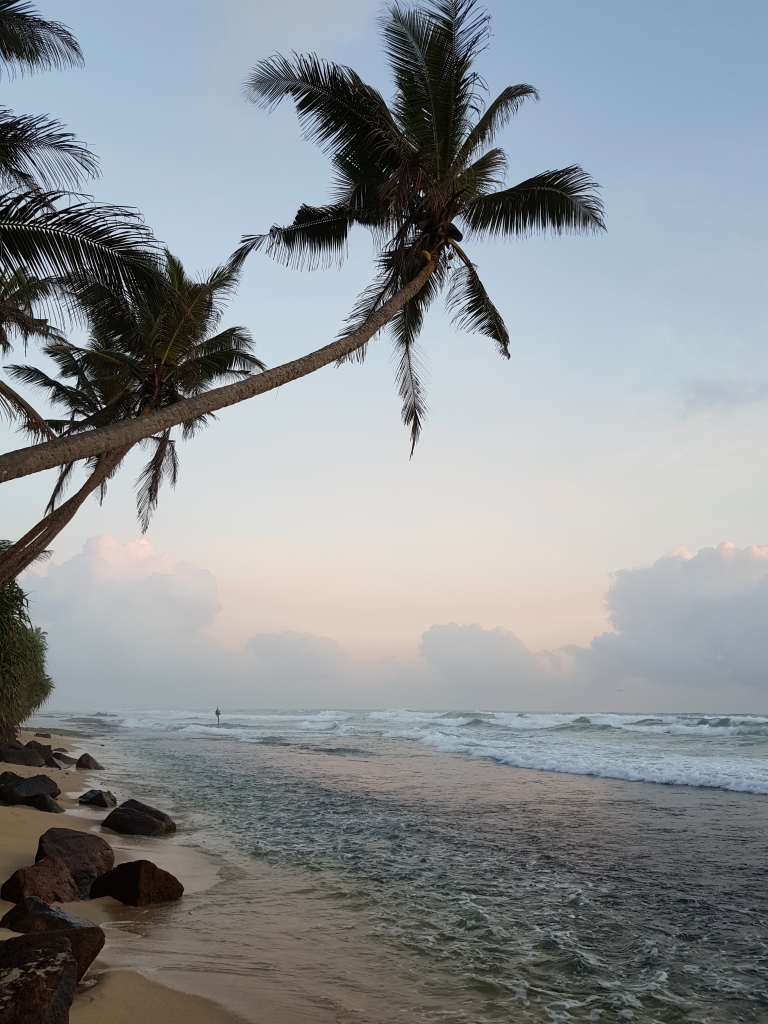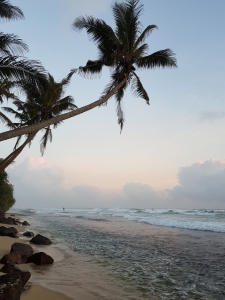 Colombo/Negombo – Anuradhapura – Sigiriya – Polonnaruwa – Kaudulla National Park – Dambulla Cave Temple – Kandy – Nuwera Eliya – Ella – Thalpe/Galle Fort (South Coast) – Colombo
Sri Lanka is an island of contrasts – ancient ruins, bustling market towns, tea plantations, wildlife,  mist covered mountains and a beautiful coastline.
Travelling through Sri Lanka is a wonderful experience enhanced by the exceptional hospitality of the local people and the delicious food!
For our 2-week trip in Sri Lanka we fly into Colombo, then drive up to the Cultural Triangle to see ruins of ancient monastries, temples and palaces (Anuradhapura, Sigiriya, Polonnaruwa, Dambulla), drive down through the tea plantations (Kandy, Nuwera Eliya, Ella) and finally to the South Coast (Thalpe, Unawatuna, Galle Fort), before flying out of Colombo.
We have hired a driver and vehicle, and booked our accommodation in advance – mostly at local guesthouses plus a luxurious villa to end the trip on a high!
Our driver, Lucky, came by his nickname after a lucky escape from the 2004 tsunami. Lucky is a gentle man, a careful driver and an informative guide. By the end of our trip, we feel like old friends. We are a party of 6, and our transport is a spacious and comfortable minivan.
Day 1-2: Negombo
We fly into Colombo, Sri Lanka's capital city, where we are met by Lucky who transports us to our first stop – Negombo – a coastal town about 30 minute's drive from Colombo's Bandaranaike International Airport. We have spent a hectic few days in Bangkok prior to arriving in Sri Lanka, so we have booked Cloud 9 Boutique Hotel for two nights to rest up before starting our driving tour of Sri Lanka.
Negombo is a quiet town. We borrow bicycles from the hotel to explore. Some of the group opt for some pampering at the nearby Jasmin Villa Ayurvedic Resort.
Day 3: Negombo to Anuradhapura
Today it is a 5-hour drive to Anuradhapura, an ancient capital of Sri Lanka, famous for its archaeological relics.
This is an interesting drive and we pass through the area of Pallum where cashews are grown and sold at roadside stalls; we see people selling coconuts, bananas and cooked corn along the road. Sri Lankan traffic is hectic with all manner of vehicles – bicycles, tuk tuks, buses, trucks and cars – we are thankful to have Lucky driving.
It is early afternoon by the time we reach Anuradhapura and we spend the afternoon sightseeing.
Anuradhapura
Anuradhapura was founded in the 4th Century BC and was Sri Lanka's ancient capital for about 1,000 years.
The kings of Anuradhapura presided over one of the greatest periods in Sinhalese culture, during which time dozens of monasteries were established and some of the greatest temples and stupas of the time were built.
Anuradhapura is now a UNESCO World Heritage Site and a place to see well preserved relics of one of the greatest civilizations in the world. It remains an important place for Buddhists.
With limited time, we visit a few of the major sights of Anuradhapura and explore the ruins of the Abhayagiri Monastery area – over 2,000 years old, with a population of around 5,000 monks in its heyday.
The highlights of Anuradhapura include:
Isurumuniya Buddhist temple, built by King Devanmpiyatissa (250-210BC). It is famous for its carvings including the Elephant Pond, Isurumuniya Lovers and the Royal Family.
Sri Maha Bodhi – a sacred relic of the Buddhist religion, this tree is a sapling of the Bodhi tree from India under which Lord Buddha received Enlightenment. It was planted in 288 BC and is said to be the oldest living human-planted tree in the world.
Ruvanvelisaya Stupa – look for the magnificent frieze of over 300 elephants at its base. Some of Buddha's ashes are said to be enshrined here.
Thuparama Stupa – constructed in the 3rd Century BC, this is the oldest stupa in Sri Lanka and is said to enshrine the right collarbone of Buddha.
Guardstone at Ratna Prasada (Gem Palace) of Abhayagiri Monastery – one of the finest guardstones in the Anuradhapura area.
Moonstone at monastic residential complex of Abhayagiri Monastery – one of the finest moonstones in Sri Lanka.
Eth Pokuna (Elephant Pond) – bathing pool for monks of Abhayagiri Monastery.
Main Refectory of the Abhayagiri Monastery – don't miss the huge rice and curry troughs used to serve food to the monks.
Abhayagiri Stupa – said to be built over a footprint of Buddha, this is the second largest stupa in Sri Lanka. It was a ceremonial place used by the monks of the Abhayagiri Monastery.
Kuttam Pokuna (Twin Ponds) – well-preserved bathing pools for monks.
Jetavana Stupa – when it was built (in the 3rd Century) it was the third tallest monument in the world, after two of Egypt's pyramids.
There is a lot to see in Anuradhapura and we really should have had at least one whole day or two to do it justice.
Tonight we stay at the Green Palace Hotel in Anuradhapura – a family-run guesthouse. There are only 3 rooms so our group has the whole place. Our Sri Lankan hosts give us a very warm welcome and serve a delicious selection of local dishes for dinner.
Day 4 – Anuradhapura to Polonnaruwa via Sigiriya
After a delicious Sri Lankan breakfast, we make an early start for Sigiriya, an ancient rock fortress and monastery – one of the highlights of Sri Lanka. The drive to Sigiriya takes about 1.5 hours and we arrive just after 9am.
Sigiriya – UNESCO World Heritage Site
Sigiriya rock has steep sides rising over 200m, with the ruins of a palace on top. The palace and the gardens (at the base of the rock) were built by King Kassapa (477-495AD). After the fall of King Kassapa, Sigiriya was converted to a Buddhist monastery and remained as such until the 12th-13th Century, after which it was abandoned.
The climb up the rock is via a staircase literally hanging off the side of the rock – not for those who have a fear of heights. It is a good idea to make the climb early in the day to avoid the crowds and the heat. The climb takes about 1.5 to 2 hours. On the way up there are frescoes and a "Mirror Wall" which is covered in graffiti dating back to the 7th Century. Also of interest is the Lion Gate about half way up the rock.
It is worthwhile visiting the excellent museum, before or after the climb, to get an idea of what Sigiriya looked like when it was King Kassapa's residence, and also when it functioned as a monastery.
Cinnamon Lodge, Habarana
After a morning at Sigiriya, we drive to the beautiful Cinnamon Lodge at Habarana for lunch.
Safari into Kaudulla National Park
From the Cinnamon Lodge we take a 4-wheel jeep to see herds of elephants in nearby Kaudulla National Park – a wonderful experience. We spend a couple of hours in the Park and then meet Lucky for the drive to Polonnaruwa – about 1.5 hours drive.
Arriving in Polonnaruwa, there is a blackout! We find our accommodation – My Home Guesthouse – and our hosts somehow, without power, produce a delicious selection of Sri Lankan dishes for our dinner. Just as the first dish is served, the power comes back on!
Day 5 – Polonnaruwa Archaeological Sites
We spend the morning seeing some of the sights of Polonnaruwa.
After the decline of Anuradhapura, Polonnaruwa became the second ancient capital (11-13th Century) of Sri Lanka. By the 12th Century AD, Polonnaruwa was a beautiful garden city built by Parakramabahu the Great.
The area was declared a UNESCO World Heritage Site in 1982. Highlights include:
Architectural Museum – it is a good idea to visit the museum before visiting the archaeological sites, as many exhibits reveal what buildings used to stand where now only ruins remain. We buy our tickets at the museum (US$25) for the architectural sites we will see in Polonnaruwa
Island Park – this was the site of a grand garden built by King Parakramabahu I. There are a couple of interesting sites here – the Audience Hall of King Nissankamalla (1187-1196), a bathing pool and ruins of a summer palace. This Island Park overlooks the Parakrama Samudra – a man-made reservoir.
Citadel – this area was a magnificent walled precinct and the city centre built by King Parakramabahu I (1153-1186). We see the ruins of the Royal Palace, the Audience Hall, the Royal Bath (Kumara Pokuna) and dressing house.
Sacred Quadrangle (Dalada Maluwa – Hall of the Tooth Relic) – here we see some of the most sacred monuments in Polonnaruwa including the Vatadage (circular relic house) and the Atadage (oldest building in the Quadrangle).
Gal Vihara – four images of Buddha carved from one giant piece of granite. This is one of the most beautiful sites in Polonnaruwa – a must see!
From Polonnaruwa it is about one hour's drive to Cinnamon Lodge at Habarana where we arrive for lunch and stay overnight.
Day 6 – Habarana to Dambulla Cave Temple to Kandy
We leave Habarana late morning and arrive at the Dambulla Cave Temple around 12 noon. The Dambulla Cave Temple is a UNESCO World Heritage site and a highlight of our trip. We buy our tickets (US$10) and it takes about 15 minutes to climb the steps to the entrance to the temple – fabulous view from the top.
King Valagamba of Anuradhapura (103BC) is said to have taken refuge in the caves when Tamils invaded Anuradhapura in the 1st Century BC. He spent over a decade there and after regaining power, he built the temple as a way of thanks, and subsequent leaders enhanced it. Dambulla Cave Temple became an important religious centre, and remains so today.
There are actually five separate caves to visit each with beautifully painted ceilings and walls. There are over 150 statues of Buddha here. It is a spectacular sight.
After over an hour at the cave temple, we drive to Ranweli Herb Garden, on the way to Kandy.
Ranweli Herb Garden
There is a very pleasant restaurant here where we have lunch, following which we take a guided tour of the herb and spice garden. Our guide shows us a variety of plants including turmeric, wild coriander, ginger, pepper, lemon grass, sandalwood, cinnamon, aloe vera, red pineapple and nutmeg, and explains their therapeutic value – it is fascinating.
At the end of the tour there is an optional shoulder massage, followed by a visit to their shop.
We spend a couple of hours at Ranweli Herb Garden and it is about 4pm before we set off for Kandy.
Samindra Villa, Kandy
For the next three nights, we have booked to stay at the beautiful Samindra Villa – in the hills outside Kandy.
This evening we visit the nearby Cinnamon Citadel hotel for dinner. The buffet is delicious with both Sri Lankan and western dishes available. The desserts are amazing, with a special cool room just for desserts.
Day 7 – Kandy
Today we visit the Temple of the Sacred Tooth (Sri Dalada Maligawa), a UNESCO World Heritage site. This is another highlight of Sri Lanka and home to the country's most important Buddhist relic – a tooth of Buddha. The entry fee is 1500 rupees.
The temple is located in the Royal Palace complex, which includes a number of temples and museums. The tooth is kept in a golden-roofed temple and is enshrined within a series of golden caskets shaped like a stupa, so you don't actually see the tooth. This is a holy place, with many people visiting to make offerings and to pray.
Within the palace complex, a shrine hall called Alut Maligawa is also of interest. A series of beautiful painted panels tell the story of Buddha's tooth and how it came to be in this place. This shrine contains many Buddhist statues that have been donated by Thai Buddhists.
Kandy Viewpoint, Lunch and Isini Gems & Jeweller/Museum
After visiting the Temple of the Sacred Tooth, we drive up to a lookout point near the Selani by Oak Ray hotel on Rajapihilla Mawatha – which overlooks Kandy, the lake and the Temple of the Sacred Tooth. We have lunch at the restaurant at Selani by Oak Ray – which also has a lovely view. After lunch we cross the road to visit Isini Gems & Jewellers. We watch an informative film on how gems are mined in Sri Lanka; we see the craftsmen at work making jewellery and then visit their showroom.
From there we drive back into town, where we take a wander around Kandy's Central Market. It is a wonderfully colourful market where the locals shop for fruit, vegetables, meat, spices, etc. Don't miss it!
Day 8 – Kandy – Royal Botanic Gardens
Today we visit Kandy's Botanic Gardens – Peradeniya. These beautiful gardens were established in 1821 and occupy around 147 acres (60 hectares). Don't miss the colourful orchids and the avenue of palms.
Day 9 – Kandy to Ella via Nuwera Eliya
It takes about 5-5.5 hours to drive from Kandy to Ella and we climb more than 4,000 feet. It is a very pretty trip, passing through many tea plantations including Dilmah – the biggest tea company in Sri Lanka.
Our first stop is at Rothschild Tea Centre. Set in pretty hills, the modern tearoom has just opened, providing free tastings of their standard tea, plus snacks, tea and gifts for sale.
Continuing on, the road winds through mist covered mountains, waterfalls, more plantations and lovely views. The air is cooler here. We pass Ramboda Falls, farms growing strawberries and potatoes, curry and rice eateries, and people selling flowers.
We make a stop at Damro Labookellie Tea Centre where we tour the tea factory, followed by tastings in the tearoom. After an hour here, we continue on, reaching the highest peak of the trip before dropping down into Nuwera Eliya.
Nuwera Eliya
Referred to as 'little England', Nuwera Eliya is a pretty town, popular with backpackers. It is pouring rain and Lucky points out the Railway Station, Victoria Park and the Grand Hotel. We are so taken with the Grand Hotel we stop here for lunch.
The Grand Hotel is a colonial building – a beautiful place, and it is worth a wander to look at the various dining rooms, lounge areas and bars. Don't miss the Billiard Room!
From Nuwara Eliya it is a 2.5-hour drive to Ella.
Will Guesthouse Homestay, Ella
We take a steep, winding road up to Will Guesthouse Homestay. The simple guesthouse building is perched on the side of a mountain – three rooms one on top of the other – with wonderful views. We receive a warm welcome from our host and have our dinner (a delicious selection of home-cooked Sri Lankan dishes) in Will's home opposite the guesthouse.
Day 10 – Ella to the South Coast
After a delicious breakfast, Lucky picks us up and we stop in the fields of a tea plantation near Ella Railway Station where there are a couple of women picking tea. A great photo opportunity.
It is possible to take the train between Kandy and Ella (or vice versa) – a beautiful 7-hour trip through the tea plantations. We felt that the advantage of driving through this area, rather than taking the train, was being able to stop to take photos, to take a tour of a tea plantation and enjoy tea tastings.
The pretty town of Ella is also very popular, with backpackers and travellers well catered for. We stop at the Grand Ella Motel, which has a magnificent view of the mountains. This hotel is undergoing a renovation at present (2017) however when it re-opens in 2018 it should be an excellent place to stay.
Shortly after leaving the town of Ella, the road is narrow and winding with a steep drop to our left and fantastic views. We stop at pretty Ravana Falls. There are a lot of avocados for sale here at roadside stalls.
Udawalawe National Park
We continue on for a couple of hours, to Udawalawe National Park (Lucky says this would have been a good place to spend a day). Just after the road crosses the very long Udawalawe Dam Wall, we see an elephant standing behind the electric fence with his trunk under the fence waiting for someone to feed him! We stop at the Elephant Transit Home to see orphaned elephants being fed milk. There are about 45 orphans here at the moment however over 100 elephants have been released back into the wild and more than a dozen have become mums!
Opposite the Transit Home is Athgira Hotel & Restaurant – an excellent place for lunch. The Sri Lankan curry is delicious. The accommodation looks very good too.
Villa Amandhira, Thalpe
From Udawalawe it is about a 3-hour drive to the coast where we have booked three nights accommodation at the beautiful Villa Amandhira at Thalpe. This 3-bedroom villa is right on the beach and comes with a staff of 4 to look after us. It is certainly the best accommodation we have stayed at in Sri Lanka.
Day 11 – Galle Fort
Today we take a tuk tuk to see Galle Fort, which is about a 20-minute drive from our villa. We have negotiated a rate of 2,000 Rupees (about A$17) for the day for each tuk tuk.
Galle is actually made up of the new town and the old town (Galle Fort). It is the Fort that attracts most visitors and is where we spend our time.
Originally built by the Portuguese in 1588 and further fortified by the Dutch in the 17th Century, Galle Fort is now a UNESCO World Heritage site. It is a unique spot in Sri Lanka with its European feel.
We spend several hours in Galle Fort, first taking a walk along the old walls surrounding the town (avoid walking in the heat of the day!). We drop into the Amangalla for a cool drink – a gorgeous colonial-era hotel. Don't miss the library with memorabilia and photographs of the hotel when it was known as the New Oriental Hotel in the 19th century.
Feeling refreshed we wander the narrow streets of the old town with its boutique hotels, cafes, galleries, shops and lovely old buildings including the mosque, Catholic, Anglican and Dutch Reformed churches. Parts of the fort are still quite run down but this adds to the beauty and atmosphere of the place.
Leaving Galle Fort, we drive to Unawatuna Beach. It is a long sandy beach – a popular tourist spot. We visit the Happy Banana restaurant, with tables spilling out onto the sand. We also check out the Blue Sky Beach Resort, a good place to stay right on the beach.
Arriving back at Villa Amandhira we enjoy afternoon tea overlooking the garden and a delicious meal in the evening.
Day 12 – Handunugoda Tea Estate
Today we take tuk tuks to visit the Handunugoda Tea Estate, renowned for its Virgin White Tea.
Handunugoda, also known as Herman Teas, is a small, family-owned estate. We tour the tea factory (which operates machines over 145 years old), see the picking of white tea (pickers wear white gloves), enjoy a cup of tea and chocolate cake, and visit the tea tasting room – the most extensive we have seen in Sri Lanka. We meet the general manager who tells us the story of how Herman started the tea estate, and we try to decide which tea to buy!
Day 13 – Colombo to Sydney
It's our last day in Sri Lanka! Lucky picks us up from Villa Amandhira and we drive along the coast in the direction of Colombo and the airport.
We stop to look at Hikaduwa – a pretty beach popular with tourists. This part of the coast was severely effected by the 2004 tsunami and we pass reminders of the disaster – including a memorial to over 1,000 people killed when their train was hit by the tsunami.
We pass through Ambalangoda, famous for its masks. Ariyapala & Sons have a small museum and showroom here – we stop for a quick look. There is a short guided tour of the museum and in the showroom there are masks and other souvenirs for sale.
We also stop to take a river cruise on the Madu River. The cruise is about 1.5 hours during which time we stop at one of the islands in the river where a local woman shows how cinnamon is harvested.
It is dark by the time we reach Colombo and we ask Lucky to take us for a quick drive through the city before heading off to the airport. We are amazed at the building going on  – especially around the port. We hope to return to Sri Lanka one day to visit the north and the eastern coast of the island. On that trip we would like to spend a day or two in Colombo.
Direct Flights: Melbourne to Colombo
From 29 October 2017 SriLankan Airlines began direct flights from Melbourne to Colombo. At present, it is a daily service, with a flight time of 10-hours and 50-minutes.
AccommodationGuru.com
October 2017
SOME TIPS FOR VISITING SRI LANKA:
When visiting Buddhist temples, you will have to remove your shoes. It is a good idea to have a pair of old socks to walk in – the ground can be very hot. Also no hats in temples, and shoulders and legs should be covered.
It is very hot and humid, so best to get an early start when visiting outdoor monuments, sights and temples to avoid the heat of the day.
If climbing Sigiriya Rock, get an early start to avoid crowds and the heat.
Mosquitoes are a problem, so be sure to take tropical strength insect repellent. We visited the Travel Doctor to ensure our vaccinations were up-to-date and for the latest medical advice on travelling in Sri Lanka.
We were advised not to drink tap water in Sri Lanka – stick to bottled water. To be on the safe side, we used bottle water to clean our teeth as well.
Best time to visit:
Dec to Mar – West Coast, South Coast, Hill Country
Apr/May to Sep – East Coast
Having said that, we visited in October and had good weather with only a day of rain in Nuwera Eliya.
The best way to see the island is with a driver and car. We can highly recommend the services of Lucky – Mobile Phone number 0094 773170080, email lucky700602@yahoo.com
So far as accommodation goes, we booked a mix of local guesthouses, resort type hotels and a luxury villa. At the local guesthouses, the hospitality is exceptional with local families welcoming you like old friends and taking great pride in serving home-cooked dishes for breakfast and dinner.
We obtained visas for Sri Lanka online using the Sri Lanka Electronic Travel Authorization System website.