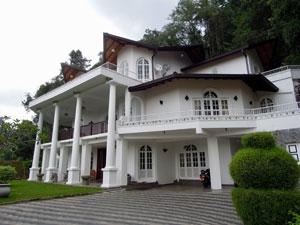 The accommodation at Samindra Villa is nothing short of magnificent! This accommodation is rightfully one of the best-rated accommodations in Kandy.
On arrival we are greeted by the charming owner, Sudharma and her son Enakshai, who serve cool drinks and make us feel very welcome.
Our accommodation is on the 3rd floor of their magnificent home. We have a large open-plan living/kitchen/dining area, off which is a large terrace with wonderful views. In the living area we have sofa and chairs and a TV. At the other end of the room the kitchen has a good-sized refrigerator and a large dining table.
Bedrooms
There are three bedrooms off the living/dining area.
Our bedroom has a king-sized bed plus a single bed. It is a spacious room with doors opening onto the front balcony – from which there is a magnificent view.
There is a long desk with huge mirror above. The electric plugs are in the right place for using hairdryer, etc.
There is a hanging space plus luggage rack – very useful and practical.
Our private bathroom is well designed with a good shower and plenty of hot water.
The other two bedrooms have similar amenities.
Breakfast & Dinner
The breakfast served at the Villa is excellent and includes fresh fruit, toast, waffles, pancakes, omelette and sausage, butter, jam, tea and Sri Lankan coffee. Each morning, the menu varies slightly giving us the opportunity to taste different Sri Lankan dishes.
We also have a delicious dinner on one night of our stay. Sudharma serves us a delicious Sri Lankan meal – there are lots of dishes to choose from – dahl, chicken and a selection of vegetables. Some are spicy and others mild. We have ice cream plus delicious curd and a palm honey for dessert.
Dinner Menus include:
Chicken, fried rice or noodles with dessert
Seer Fish, rice or noodles with dessert
Sri Lankan curry and rice with chicken and dessert
Samindra Villa Kandy – Highly Recommended
Samindra Villa was one of the best places we stayed in Sri Lanka. It is outstanding – clean, comfortable, quality linen, large rooms, wonderful views, delicious meals and warm hospitality.
Photos of Samindra Villa Kandy
AccommodationGuru.com
17-18 October 2017