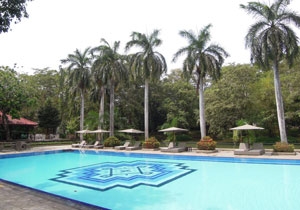 The Cinnamon Lodge Habarana is a beautiful hotel with lovely pool, gardens and restaurants.
We have booked one night's accommodation at a special rate that includes buffet dinner for two and breakfast for two.
We are in Room 77 – a spacious room with tiled floors and timber furnishings – beautifully cool with air-conditioning.
Room 77 features a very comfortable King Size bed, a long desk providing plenty of work space for computers, a luggage rack, a round table with chair in centre of room, a TV, plus a lounge. We also have a mini bar, tea making facilities and complimentary bottles of water.
The wardrobe contains extra pillows, iron and ironing board and a couple of umbrellas.
The bathroom is well designed. It is long and narrow with shower (plenty of hot water) at one end, basin in centre and toilet at other end. Good quality toiletries are provided.
Restaurant Ehala
Restaurant Ehala is an open, airy space with views of the pool. We enjoy two complimentary buffet meals here – the choice of dishes is amazing.
Our delicious buffet dinner has an extensive selection of dishes and includes Sri Lankan curries, a noodle bar, a dessert room, tea and coffee.
The equally delicious buffet breakfast offers many choices including traditional Sri Lankan dishes such as curries, string hoppers and plenty of condiments, fresh fruit, juices, tea and coffee. We love the hopper bar where savoury and sweet hoppers are freshly cooked.
Facilities
Cinnamon Lodge Habarana features:
Ehala – open air buffet and a la carte restaurant
Lotus – Sri Lankan fine dining restaurant
The Verandah – casual dining overlooking reflecting pool
Tuskers Bar – lounge bar
Other facilities include the Azmaara Spa, tennis court, butler service and babysitting.
Habarana Village
Cinnamon Lodge is a short walk into the village – worth exploring to experience local shops, people, cafes and life in rural Sri Lanka. 
Safari into Kaudulla National Park
At the entrance of the hotel, we organised a safari jeep ride to see the elephants in Kaudulla National Park. The was US$25 per person. It is about a 30-minute drive to the park where we spent a couple of hours viewing herds of elephants and other wildlife. It is very worthwhile.
There are three national parks in this area – Kaudulla, Minneriya and Hurulu – all joining one another. Which park you go to depends upon where the elephants are on the day.
Cinnamon Lodge Habarana – Highly Recommended
We can highly recommend a stay at Cinnamon Lodge Habarana – it is an oasis. The rooms are clean, comfortable and spacious, the pool and gardens well tended, and the meals are delicious.
Photos of Cinnamon Lodge Habarana
AccommodationGuru.com
16 October 2017