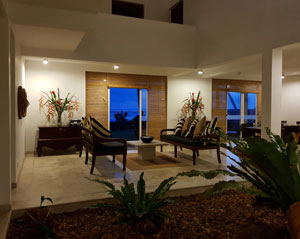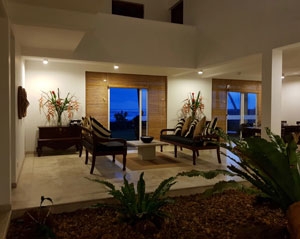 After a long drive from Ella, we arrive at Villa Amandhira at Thalpe, on Sri Lanka's South Coast – and it is paradise!
We are presented with cold face washers, and the staff carry our bags to our rooms while we are served cool drinks on the terrace overlooking the garden and the sea.
The villa is amazing. It is a luxurious, modern villa that has been architecturally designed. The furniture and styling is very tasteful. We love the polished concrete floors, the white walls, the teak coloured timber furniture, the fresh flowers and the ocean view. In fact the villa is right on the beach. We have access to the sand via a gate (that is locked every night). The sunsets are incredible. An added bonus is that a stilt fisherman appears every afternoon/evening just out front of the villa.