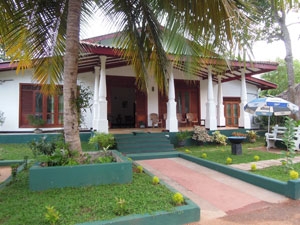 On arrival at the Green Palace Hotel Guesthouse we receive a very warm welcome from our hosts – Brian and his family.
The guesthouse has a grand entrance and we are offered a welcome drink on arrival – refreshing Sri Lankan tea, cold juice and delicious home made treats.
There are three rooms in the guesthouse, plus lounge and dining area.
Our room is very spacious with two queen beds. We have a desk, mirror, clothes rack and TV. The bathroom is also spacious.
The air conditioning in our room is a welcome relief from the heat.
A real treat is dinner. Brian and his family prepare a Sri Lankan feast for us with several delicious dishes to choose from. The setting for dinner is very pretty – under a thatch roof in the garden.
Breakfast is also a real treat. The family spoil us with a feast of many local dishes.
The Guesthouse has only been open since the beginning of 2017 but is already receiving excellent reviews on booking.com – with good reason. It is clean, spacious and comfortable. The hospitality of our hosts is exceptional.
Photos of Green Palace Hotel, Anuradhapura
AccommodationGuru.com
13 October 2017