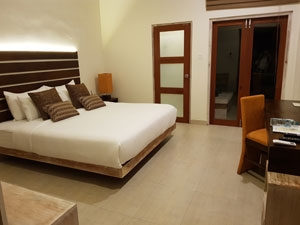 Cloud 9 Boutique Hotel is a well-designed, contemporary boutique hotel that opened just six months ago. There are 10 rooms available and we have Room 10.
We arrive quite late at night and receive a warm welcome.
Room 10
We have room 10, a good-sized room with a king bed. Double glass doors open onto a private garden terrace. The room is well appointed – we have a desk, a large wall-mounted TV, a small fridge, tea-making facilities, a bench for our luggage, wardrobe, safe and large mirror. The air-conditioning in our room is lovely and cool – a welcome respite from the heat outside. We have a modern en-suite bathroom with a good shower, hairdryer, good quality towels and lots of good quality toiletries.
Roof Top Terrace
We love the roof-top terrace where breakfast and dinner is served. It is a good spot to catch the breeze. The meals and service are excellent.
Breakfast is delicious and consists of fresh fruit, juice, tea or coffee, pastries, toast and eggs – we had omelette – delicious!
For dinner, we are able to order seafood (lobster, crab, prawns, fish), curries, rice, stir-fried vegetables, etc – all delicious. Beer and wine is available.
Lunch is also available.
Things to Do
During our stay we borrow the hotel bicycles and ride into town to explore – a few minutes away. We visit the sister hotel – the Golden Star Beach Hotel – which is undergoing a renovation. Guests from Cloud 9 can use the facilities, which will be a bonus once renovations are completed.
In the foyer of Cloud 9 there is a signboard promoting the services of the Jasmin Villa Ayurvedic Resort – massages, facials, etc. Some of our party opted for a massage and the hotel staff organised a car to take them to and from the villa. It was a wonderful experience.
There are plans to build a swimming pool in 2018 and this will be a much appreciated addition to Cloud 9 Boutique Hotel's amenities.
Cloud 9 Boutique Hotel Negombo – Highly Recommended
We can highly recommend a stay at Cloud 9 Boutique Hotel – a clean, modern and comfortable hotel just 30 minutes drive from Colombo's international airport (Bandaranaike International Airport). One of our best stays in Sri Lanka.
Photos of Cloud 9 Boutique Hotel Negombo
AccommodationGuru.com
12-13 October 2017