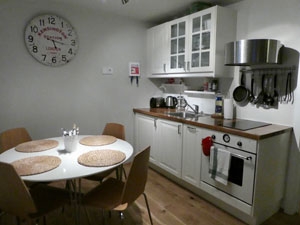 Sem Apartments has an excellent location in the centre of Reykjavik. We are in walking distance of the main shopping area, the Hallgrimskirkja church and the harbour.
The apartments are in a corrugated iron building – typical of the beautiful older-style buildings in Reykjavik's centre.
We obtain the key from a key box and walk a few stairs down to Apartment 1.
On entering, it is a warm and cosy haven from the cold outside. The apartment is clean, fresh and well decorated. It is a small apartment with two small bedrooms, very small bathroom and open plan living/dining/kitchen area. It is well designed and cheerful.