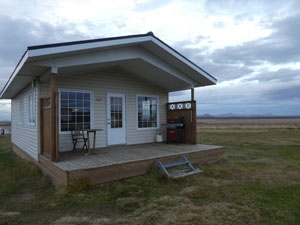 On the fifth night of our Ring Road self-drive tour of Iceland, we stay in a cottage at Guesthouse Stong, 13kms from Lake Myvatn.
It is a cold day and we are glad to see the guesthouse – located on a 1100 hectare farm on the eastern side of Lake Myvatn. After checking in at the Guesthouse, the friendly owner points us to the nearest cottage. We are the only guests staying tonight, as it is the end of the season.
Our timber cottage has three bedrooms. It is very small and the bedrooms can only be described as tiny – however it is clean, warm, cosy and comfortable.
At the front of the cottage there is a deck with a BBQ and small outdoor setting. The views over the farm are lovely.
Living Room/Kitchen
We have a small living room with a tiny kitchen area at one end. There is a small dining table, a corner sofa, small round coffee table and a television. There are large windows in the living room/kitchen area taking advantage of the lovely outlook.
The kitchen has just a couple of cupboards, bar sized refrigerator, cooktop, kettle, toaster and coffee maker. It is compact but serviceable.
There is a little hallway off which are the 3 bedrooms and a bathroom.
Bedrooms
The first bedroom has a single bed plus bedside table.
The second bedroom has a double bed pushed up against the wall plus a bedside table.
The third bedroom has two single beds with bedside table in between.
There are 4 hooks on the wall in each of the bedrooms and very little room for anything else. However, the beds are comfortable and each has a reading light above the beds and a window.
Bathroom
The bathroom has a shower, basin, mirror, toilet, soap dispenser plus paper towel dispenser.
Guesthouse
As well as the cottages, there are guest rooms in the main building plus a dining room where breakfast and dinner are served in season (not during our visit). We only go the main building to visit Reception. Near the main building we notice there are two new outdoor hot tubs plus little timber rooms with showers – the area doesn't appear to be quite finished but will be a very nice feature.
Guesthouse Stong & Cottages – Recommended
We had a very comfortable stay at Stong Guesthouse & Cottages. We loved the countryside location, and the clean, cosy cottage.
The highlight of our stay was seeing the northern lights around 10.30pm!
Photos of Guesthouse Stong & Cottages
AccommodationGuru.com
23 October 2016