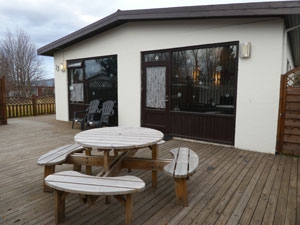 For our fourth night touring Iceland on the Ring Road, we booked Reynivilla – a three-bedroom villa in Egilsstadir.
We arrived late afternoon and the owner met us with the key.
We found Reynvilla to be a spotlessly clean, cheerful, spacious home and we enjoyed our stay.
Living/Kitchen/Dining
The living room and kitchen/dining area were open plan with plenty of natural light through the large windows overlooking a courtyard. The courtyard which featured a BBQ and some outdoor furniture, was made private from the street by a timber fence.
The kitchen was along one wall at the end of the living room and was modern and well equipped. We had an oven, cooktop, dishwasher and good-sized refrigerator plus crockery, glassware and pots and pans. There were a number of condiments for our use plus tea and coffee. There was also a kettle, toaster and coffee maker.
There was a nice big dining table with seating for 6 people.
In the living room there was a 2-seater and 3-seater sofa plus coffee table, television and a small electric heater. We didn't use the electric heater as panel heaters warmed the house beautifully.
Bedrooms
The 3 bedrooms opened off a wide hallway.
The first bedroom had a timber king bed plus wardrobe and two bedside tables.
The second bedroom had a double bed plus one bedside table and a wardrobe.
The third bedroom had twin single beds plus dresser in the middle.
Bathroom & Laundry
The bathroom had a separate shower, basin and cabinet with towels and a hairdryer. Large bottles of shampoo and conditioner were available for our use.
There was also a separate laundry room with washing machine, clothes drying rack, iron and ironing board, and vacuum cleaner.
Reynivilla – Highly Recommended
We can highly recommend a stay at Reynivilla. It was a warm, cosy and comfortable home.
Photos of Reynivilla, Egilsstadir
AccommodationGuru.com
22 October 2016