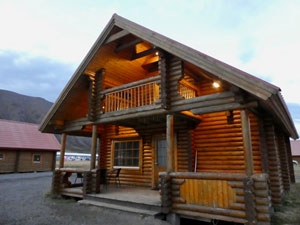 On the sixth night of our tour on the Ring Road around Iceland, we have booked a large cabin at Brimnes Hotel & Cabins (Brimnes Bungalows on booking.com) in Olafsfjordur.
We are in Cabin Reykiz – a beautiful log cabin on the lake.
Cabin Reykiz has three bedrooms and an open plan living/dining/kitchen area. The whole cabin is timber – floors, walls and ceiling. It is very warm and cosy as there is panel heating throughout and it's very effective.
Living Room
The living room has a coffee table and television mounted on the wall.
Kitchen
The kitchen is very well equipped with oven, cooktop, microwave, bar fridge, coffee maker, toaster and kettle. There is plenty of crockery, glassware and pots/pans. We self cater for dinner as the hotel restaurant is closed.
Bedrooms
One double bedroom downstairs.
Two spacious bedrooms upstairs with sloping ceilings – one bedroom overlooking the lake has two single beds; the other bedroom has three single beds.
To get to the upstairs bedrooms there is a steep staircase – which could even be described as a ladder!
Bathroom
The bathroom is downstairs and has a shower, basin and toilet. While there is no hairdryer supplied in the bathroom, hairdryers are available from Reception.
Hot Tub
The cottage has a front veranda with a hot tub. It's a great place to relax and take in the views of the lake. If you are lucky you can sit in the hot tub and see the Northern Lights.
Accommodation choices at Brimnes Hotel & Cabins include:
Standard Hotel Room – Double or Twin
Small Cabins
Medium Cabins
Large Cabins
One bedroom, 1st Floor Apartment
Amenities
Brimnes has a restaurant open during the summer season. Breakfast is available from 1 April to 15 September; dinner is available 1 June to 31 August.
Bar, TV Lounge and Pool Table located in hotel building.
Boats and kayaks available free to guests from June to September.
Complimentary WIFI.
Brimnes Hotel & Cabins – Recommended
We had a very comfortable stay. Our cabin was clean, warm and well equipped. Please note that there is a steep staircase up to the second and third bedroom in the Large Cabin. This may not suit everyone.
Photos of Large Cabin, Brimnes Hotel & Cottages
AccommodationGuru.com
24 October 2016