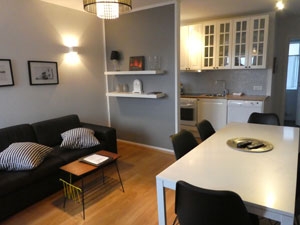 On the 7th night of our trip around the Ring Road of Iceland we have booked an apartment in Egils Guesthouse in Borgarnes. This is one our favourite accommodations of the trip.
We have a 2-bedroom apartment at No. 6. It is a very charming apartment and the owners have put a lot of thought into the decorating and the amenities provided for their guests. There are some very thoughtful touches.
The entry hall has a row of hooks and shelving for our coats, car keys, etc. Off this entry hall are two bedrooms, and a wide opening to the kitchen and living room, with the bathroom off to the right.
The living room is very attractive and comfortable with a sofa (which is a sofa bed if required), two armchairs, coffee table, television and dining table.
The small kitchen space is also very attractive and amenities include a cooktop and oven, dishwasher, good-sized fridge, microwave and plenty of glassware, pots and pans, crockery and cutlery.
The bathroom includes a shower, basin and toilet, plus washing machine and dryer. There are lots of hooks for our belongings.
One of the bedrooms has a double bed with side tables, lamps and a wardrobe. There are also luggage racks available.
The other bedroom has four single beds.
The whole apartment is warm and cosy – there is panel heating throughout.
The owners have put together a very helpful and comprehensive compendium for the apartment and sights nearby.
The apartment is spotlessly clean and well maintained.
It is in a very good location – there are lovely views of the mountain and it is within walking distance to the Settlement Center museum (www.landnam.is/eng) where there is also a good restaurant.
We can highly recommend a stay at Egils Guesthouse.
Photos of 2-bedroom apartment at No. 6 Egils Guesthouse
AccommodationGuru.com
25 October 2016