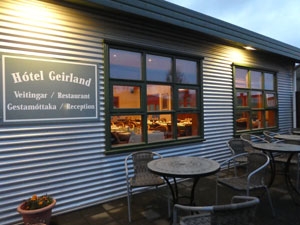 This hotel has a beautiful setting on a farm just out of the small town of Kirkjubaejarklaustur – a few kilometres off the Ring Road in southern Iceland. We follow the signs to Geirland, pass by a pretty waterfall and see Hotel Geirland where we have booked one night's accommodation.
Hotel Geirland is not exactly a hotel in the normal sense of the word but a collection of buildings that includes the main building with Reception, Restaurant and Lounge area in one big open room, plus a number of cottages. Each cottage has two separate accommodations (a bit like a semi detached). We have Room 11 and next door to us is Room 12.
Room 11
At the entrance to Room 11 there is an small area with hard floors that includes a wardrobe/hanging space and a shelf for luggage with a small cupboard underneath. Off this small entry is the bedroom and bathroom.
The bedroom is very warm and cosy, decorated in cherry red and timber, with white bed linen on the beds.
There are two twin beds pushed together, each with a side table and bedside lamp. At the end of the beds there is a built-in bench space that spans the corner of the room – giving a nice long desk and a place to make a cup of tea (herbal teas provided).
The bathroom is small and includes a basin, shower with curtain and toilet. The bathroom could be improved with hooks and towel rails – these are not provided at all. There is a shelf space where clean towels are stored and there is a hairdryer. On the up side the shower is very good with plenty of hot water.
There is plenty of parking at this property.
Hotel Geirland's Restaurant
We have dinner at the Hotel Geirland restaurant – it is very convenient not having to drive back into the village. The restaurant was very busy and the food very good – the emphasis is on local produce. Just near the bar is a small lounge area with TV.
Included in our rate, we have a delicious breakfast served in the dining room where we had dinner the night before. On offer are cereals, milk, yogurt, fresh fruit, hard boiled eggs, cheese, cold meats, bread, pancakes and home made jams, coffee, tea and hot chocolate. There are beautiful views from the dining room.
Nearby
Facilities in the nearby village of Kirkjubaejarklaustur include a supermarket, bank, liquor store, doctor, sport centre, swimming pool, garage and information centre.
Nearby places of interest include Skaftafell 70kms, Laki 48kms, Kirkjugolf 1.5kms, Fjardargljufur 11kms, Dverghamrar 12kms, Nupsstadur 35kms.
Hotel Geirland – Highly Recommended
We can highly recommend a stay at Hotel Geirland. The staff are friendly, the accommodation is warm, clean and comfortable in a scenic location just off the Ring Road.
AccommodationGuru.com
20 October 2016