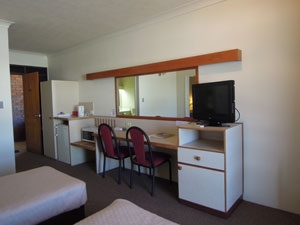 On a recent trip to Longreach, we stayed at the Longreach Motor Inn, a very large motel on two levels. We booked into Room 31, a family room with two rooms and a bathroom, on the upper level.
It was a comfortable room with plenty of space.
In the main room there were twin beds with bedside tables, a couple of luggage shelves and wardrobe.
In that room there was also a long bench/desk with bar-sized fridge, tea-making facilities, a microwave, television and air-conditioning system. A sliding door opened onto a small balcony where there was a small table and 2 chairs.