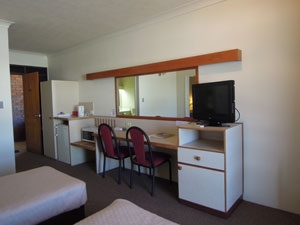 On a recent trip to Longreach, we stayed at the Longreach Motor Inn, a very large motel on two levels. We booked into Room 31, a family room with two rooms and a bathroom, on the upper level.
It was a comfortable room with plenty of space.
In the main room there were twin beds with bedside tables, a couple of luggage shelves and wardrobe.
In that room there was also a long bench/desk with bar-sized fridge, tea-making facilities, a microwave, television and air-conditioning system. A sliding door opened onto a small balcony where there was a small table and 2 chairs.
The bathroom was off the main room and had a shower, toilet and a vanity with good sized bench space. It had a good shower with plenty of hot water. There were a couple of electric plugs well placed for plugging in a hairdryer and electric toothbrush.
The other bedroom had a queen bed with bedside tables, a small desk, a television, hanging space, a fan mounted on the wall, and an air-conditioning system. This room also had a entry door to the outside walkway.
The motel was an old-fashioned style motel, however it was very clean with what appears to be new carpet. Everything was in good working order.
Amenities at the motel included a small swimming pool, restaurant and bar.
We can recommend a stay at the Longreach Motor Inn. There are plenty of room configurations to choose from, and it is quite close to the main street and very close to the Railway Station.
We had a couple of excellent dinners nearby at the Bushrangers Bistro in The Birdcage Hotel (bushrangersbar.com.au) at 31 Duck Street – just a short walk down the street from the Motel. The Longreach RSL Club is also close by at 34 Duck Street.