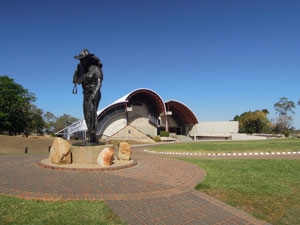 There is much to see and do in Longreach. It's a long drive to get there but if you have the time it's worth spending a few days – the region has a lot to offer.
Longreach is located in Central Western Queensland. It is sheep and cattle country – and tourism increasingly plays an important role in the town's prosperity. The most well known attractions are the Australian Stockman's Hall of Fame and the Qantas Founders Museum, however we found there is much more to Longreach than that if you are visiting during the tourist season.
The tourist season is from April through to October so it's best to plan your visit during that time, when most of the evening entertainment and tours are on.
Longreach Tours & Attractions
Australian Stockman's Hall of Fame – self-guided tour, Outback Stockman's Show, plus Night Show & Dinner.
Qantas Founders Museum – self-guided tour, 747 Wing Walk, and Jet Tour.
Heartland Theatre Dinner & Show at Qantas Museum – a night of music, songs, poems and yarns (www.heartlandtheatre.com.au).
Camden Park Station – visit the Walker family property (a working sheep and cattle station) that hosted the Queen and Prince Philip. Tour includes shearing shed, cattle yards, homestead gardens and morning tea (www.facebook.com/camdenparklongreach).
Kinnon & Co operate various tours including the Thomson River Boat Cruise, Cobb & Co Experience, Nogo Station Tour, Harry Redford Old Time Tent Show, Sunset River Paddlewheeler Cruise, Dinner & Sound Light Show (www.kinnonandco.com.au).
Outback Aussie Tours offer Thomson River Cruise, Drover's Sunset Cruise, Strathmore Station Smoko Tour, Darriveen Station & Starlight's Trail, Smithy's Outback Dinner & Show, Camden Park Station Sunset Tour or Smoko Tour (www.outbackaussietours.com.au).
Longreach School of Distance Education (February to November).
Starlight's Lookout.
Tony's Facts & Fibs Town Tour, telephone (07)4658 2411.
Longreach Powerhouse Museum .
The Australian Stockman's Hall of Fame and Outback Heritage Centre
The Stockman's Hall of Fame is one of Longreach's most famous attractions.
We spent an enjoyable time soaking up the stories of Outback Australia. There is a lot to read, films to watch and audio presentations to listen to, so allow plenty of time. It is truly a tribute to the many men and women who built rural Australia.
Pick up a Visitor Guide when you pay the entry fee and it has a Galleries Map to help you plan your visit. There are six main galleries:
Our Story: Aboriginal Workers in the Pastoral Industry
Pioneers
Outback Properties
Royal Flying Doctors
Stock Workers
Hugh Sawrey Art Gallery, Information Centre and Library (there was an exhibition on the Kidman family at the time of our visit)
There is also a bookshop, souvenir shop, the Wool Bale Café (selling salads, sandwiches, pies, cakes, cool and hot drinks). In the Theatre, on the hour every hour, there is a 15-minute film on the 'Life of a Stockman', which is worth seeing.
A highlight of our visit was the Outback Stockman's Show featuring Lachie Cossor. This hour-long show is very entertaining and informative and you can see it every day at 11am between April and October. Lachie is a charismatic, third generation stockman and during his show, gives an insight into the life of a stockman, their horses and their working dogs. He even has a song or two up his sleeve.
In the evening, in the Hall of Fame's Cattlemen's Bar & Grill, there is also a Dinner & Show where Lachie, together with his three daughters, put on another show (different to the one during the day), which is fun and entertaining.
There are varying entry fees to the Stockman's Hall of Fame – depending upon whether you want to see the daytime show, the evening show, or both. At the time of our visit it was $75.00 for the lot, while the entrance fee (including daytime show) show was $47.00.
QANTAS Founders Museum
We spent the morning here from about 9am until 1pm, however it would be easy to spend longer – there is much to see, read and hear.
Highly recommended is the 1.5-hour Jet Tour. We took the first tour of the day at 9.30am (there are usually 4 tours during the day). The tour included a quick overview of the museum, then an enjoyable and informative visit to an open area to see three aeroplanes – a 747, a 707 and a DC3. Visitors are only allowed in this area on a guided tour.
We found it best to do the tour then have a look around the museum as the exhibits and information are more meaningful.
Don't miss the Heritage-listed original Qantas Hangar (from where Qantas began operations in 1922), the Catalina aircraft, the museum introduction video in the Theatrette (runs for 8 minutes) and the Jo Shannon Discovery Centre (showing video of the 747 arriving in Longreach).
We can recommend lunch at McGinness's Restaurant within the Museum.
For more information on entry fees and tour times see the website (qfom.com.au/admission-prices).
Beyond Longreach
Australia's Dinosaur Trail (www.australiasdinosaurtrail.com) through Winton, Hughenden and Richmond.
Outback Aussie Tours offer a number of tours beyond Longreach including the Legendary Longreach & Winton Tour, Birdsville Desert Escape, Cape York & Torres Strait, Outback Queensland National Parks and Journey of the Gulf Savannah and Starlight's Lookout Tour. See their website for details (outbackaussietours.com.au).
Winton – there is much to see and do in Winton – see website for details (www.experiencewinton.com.au).
AccommodationGuru.com
6-7 October 2015