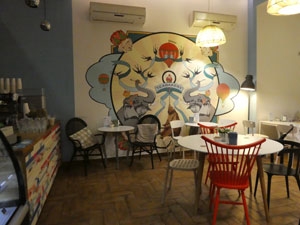 Mayakovka House is a lucky find for us in Moscow. It is a very good hotel and we can highly recommend a stay.
Location
The location of the hotel is excellent. It is in a side street off Tverskaya Street (the main street in Moscow) and about a 5-minute walk to the closest metro – Mayakovskaya Metro Station. It is about a 20 minute walk to Red Square or just two stops on the Metro.
The area around the hotel is very interesting – there are a number of theatres, shops and a pretty park – Patriarch's Ponds Park, a short walk away.
In the same street as the hotel, there are two good restaurants, a pharmacy and a store selling takeaway food, cakes, pastries, drinks, etc. Around the corner on Tverskaya Street there is a very good grocery store called Daily.