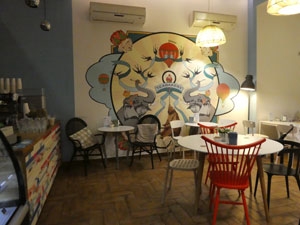 Mayakovka House is a lucky find for us in Moscow. It is a very good hotel and we can highly recommend a stay.
Location
The location of the hotel is excellent. It is in a side street off Tverskaya Street (the main street in Moscow) and about a 5-minute walk to the closest metro – Mayakovskaya Metro Station. It is about a 20 minute walk to Red Square or just two stops on the Metro.
The area around the hotel is very interesting – there are a number of theatres, shops and a pretty park – Patriarch's Ponds Park, a short walk away.
In the same street as the hotel, there are two good restaurants, a pharmacy and a store selling takeaway food, cakes, pastries, drinks, etc. Around the corner on Tverskaya Street there is a very good grocery store called Daily.
Studio Room 325
We have Room 325 – a very spacious Studio with private bathroom on the top floor (there is a lift). Our Studio room has a large bed plus sofa bed. We also have an armchair, a wardrobe, a large white shelving unit, a small round table and 2 chairs, chest of drawers with TV on top, a small refrigerator, electric kettle, coat rack and hooks near the front door. There is a large skylight type window that we can open for fresh air.
The bathroom is a good size with shower, basin and toilet. There are soap dispensers and a hairdryer.
Reception
The staff at Reception are very helpful and if they don't understand English they make a big effort – we sometimes use Google Translate to communicate!
TeaBakery Cafe
We love the TeaBakery café opposite Reception on the ground floor, where we have a delicious and inexpensive breakfast each day. The café is open from 8am until 8pm every day for breakfast, coffee, cake and light meals. See website for details – http://teabakery.ru/
Note
Be careful when booking rooms at Mayakovka House, as some rooms don't have a window.
Recommended Restaurants Nearby
Barrique Café
This is a cool restaurant with very attentive and helpful staff. We had delicious meals including chicken fillet, BBQ vegetables, salmon and beef fillet – all good value for money. The lemon cake was wonderful. We can highly recommend this restaurant for lunch or dinner. 

Casa di Mosca
An excellent restaurant with friendly service – delicious pasta and beef stroganoff – good value for money. Be sure to have some cash with you at this restaurant, as our Australian credit cards were not accepted.
Mayakovka House – Highly Recommended
We can highly recommend a stay at Mayakovka House. We loved this clean, comfortable, well-located hotel – and it is good value for money.
Photos of Mayakovka House Hotel, Moscow
AccommodationGuru.com
14-17 June 2017