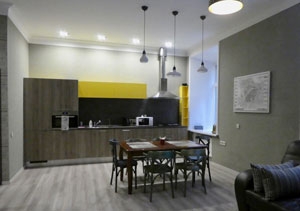 We have booked a spacious, 2-bedroom apartment in St Petersburg through Air BnB. It is one of the best apartments we have had on our trip to Europe.
The apartment is in an excellent location – just a short walk from the main street of Nevsky Prospect (Nevsky Avenue). It is a hip area with lots of restaurants and an excellent supermarket across the road. We are a very short walk to the nearest Metro – Dostoevskaya Station.
The apartment is in a lovely old building complex. The driveway into the large central courtyard is gated and the pedestrian entrance is also gated – so all secure.
The apartment itself is fabulous. It is on the ground floor, has floating laminate flooring throughout, very high ceilings, and large windows that open for fresh air. There is central heating plus column heaters. The central heating is not switched on during our stay in June as the weather is warm, so perhaps column heaters are supplied should we need them.
Entering the apartment, there are hooks for our coats, a stool to sit on to take our shoes off, and a cupboard to hang clothes in. There is an iron and ironing board in the cupboard.
The living/dining/kitchen area is spacious and 2 bedrooms and a bathroom are off this area.
Kitchen
The kitchen is along one wall and is well designed. There is a fridge, oven, gas cooktop, microwave and a coffee machine (no toaster). It is well equipped with crockery, cutlery, glassware, pots and pans. There are some condiments supplied including salt and pepper, sugar, cooking oil.
Dining
There is a dining table and six chairs.
Lounge
The lounge area has a large dark leather sofa that converts to a sofa bed. We use the bed and it is comfortable. There are also a couple of small side tables and a television in this area.
Bedroom 1
The main bedroom has a king bed with side lights fixed to the wall. It is a spacious room and has a deep wardrobe with glass doors along one wall – almost like a walk-in robe.
Bedroom 2
The second bedroom has a day bed, the bottom of which pulls out and the mattress folds out to make a big bed. There is a very deep wardrobe with glass doors, a desk and chair, and a small round table.
Bathroom
The bathroom is a large room with shower, toilet and basin. There is underfloor heating and a heated towel rail – making it very warm and cosy. It is a good strong shower with plenty of hot water. There is also a washing machine in the bathroom – integrated in the vanity.
Highly Recommended
This is an excellent apartment, clean and comfortable, in a fabulous location.
Note
A word of caution! When booking a property through Air BnB, be sure that payment is made to Air BnB and not directly to the owner. We tried to book two other AirBnB properties in St Petersburg that turned out to be scams. When our requested dates were confirmed by those properties and we were ready to book, the 'owner' requested direct payment. This raised alarm bells and we realised it was a scam. All bookings through Air BnB should be paid for through Air BnB and never directly to the owner.
We had no trouble when booking and paying for the Air BnB that we have reviewed here.
Recommended Restaurants Nearby
Texas Restaurant Smoke BBQ – excellent, well priced meals with English menu at 11 Rubinstein Street – http://beercard.ru/smokebbq/
Gastronomika – on the 6th floor at 5/21 Marata Street – a 10-minute walk from our apartment, this rooftop restaurant has an extensive menu (Italian, Russian, Asian, etc). The restaurant is part of a group of restaurants called the Ginza Project – well worth checking out.
Photos of Air BnB, St Petersburg
AccommodationGuru.com
10-13 June 2017