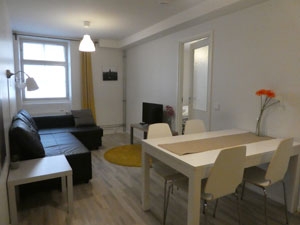 Experience Living Apartments manage a number of apartments throughout Helsinki. We book a two-bedroom apartment with a sofa bed in the living room. It is a modern apartment in a good location close to public transport.
Our apartment is Apartment 81, 2nd Floor, Eerikinkatu 43D, Helsinki. We collect the key to the apartment from the office of Experience Living Apartments and take a taxi to our accommodation.
We enter the apartment building through a locked metal gate from the street, and then walk through a courtyard to the front door of the building then up a flight of stairs to the 2nd floor (in Australia we would call it the first floor).
The apartment is modern and looks recently refurbished with laminate floating flooring throughout. There is central heating (panel heaters on the wall), which in June we don't need as the weather is warm.
We enter through a long hallway off which there is a storeroom, then the bathroom, hanging space for our coats, and shelves for our shoes. There is a little alcove with a desk before we reach the open plan living/dining/kitchen area, off which there are two bedrooms.
Living/Dining/Kitchen
This is a long, open plan room with the kitchen at one end. The kitchen has a fridge, oven, cooktop, microwave, toaster, kettle and coffee maker. Crockery, cutlery, pots and pans are supplied however some glasses and cutlery are missing. There is washing up liquid but no tea towel or paper towels provided.
The dining table seats six.
The black leather modular sofa converts to a sofa bed and is very comfortable. The window above the sofa is able to be opened and lets in plenty of fresh air and light. Also in the living area are a side table and a little table with the TV on top.
Bedroom 1
One bedroom has twin beds with bedside table and lamp in between. There is a built in floor to ceiling wardrobe. The beds are very comfortable and there is an opening window above the beds.
Bedroom 2
This bedroom has twin beds pushed together and a built-in floor to ceiling wardrobe. There is no window in this room – just a sliding door to the living room.
Bathroom
The bathroom is quite big and has a shower, pedestal basin, toilet and washing machine. There is a generous supply of towels.
Store Room
Off the hallway in the apartment, there is a storeroom containing an iron and ironing board, clothes drying rack, child's high chair and a vacuum cleaner.
Public Transport
The apartment is in a good location – very close to tram stop for Trams 6 and 6T, which take us into the city. Tram tickets cost 2 Euros for a ticket that lasts one hour (available on the tram).
Restaurant Kannas (Ravintola Kannas) – www.kannas.fi
Next door to the apartment is a restaurant and bar – Ravintola Kannas – serving excellent meals at reasonable prices and the service is friendly.
Photos of Apartment 81, Eerikinkatu 43D, Helsinki
AccommodationGuru.com
8-9 June 2017