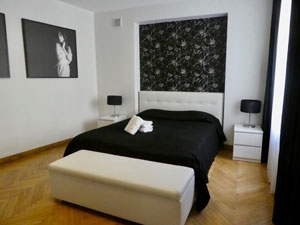 Delta Apartments manage a number of apartments in Tallinn. The apartment that we stay in is Apartment 3, 4 Lai Street – one of the Old Town Family Apartments. It is a well-located, very spacious 2-bedroom apartment, opposite the NUKU Theatre building (puppet theatre) in the Old Town.
On arrival in Tallinn, we collect the key from the Delta Apartments office – about a 5-minute walk away from the apartment.
Entry to the apartment block is through a gate, then a timber door and up stairs to the 1st floor (no lift).
The apartment is newly refurbished, clean, light and airy. There are timber laminate floors throughout.
Off a short hallway there are two large bedrooms, large lounge room, kitchen and bathroom.
Kitchen
The kitchen is modern, clean and well equipped. The bench space is along one wall and there is a dining setting for six people in the middle of the room.
The kitchen has a cooktop, microwave, dishwasher, fridge, kettle, toaster, coffee maker plus plenty of crockery, glasses, cutlery, pots and pans. There is also dishwashing liquid, paper towel, coffee, tea, sugar, pepper and salt.
Lounge Room
This is a big room with a large, black leather modular sofa, high gloss white coffee table, black sideboard and television. The two windows give plenty of natural light.
Bedroom 1
This large bedroom has a queen bed, bedside tables and lamps, plus a single bed in one corner, and a wardrobe with extra towels. There is a full-length mirror on one of the wardrobe doors. Large windows open into a central courtyard.
Bedroom 2
This is a spacious bedroom with queen bed, bedside tables and lamps, and chest of drawers. The large windows open onto the street.
Bathroom
The bathroom has a shower, small basin, toilet and washing machine (wash powder provided). The shower is a cubicle/pod and has a soap dispenser. It appears to have all kinds of gadgets but we don't know how to work them! There are hooks and good lighting in the bathroom. A hair dryer is supplied.
Delta Apartments – Recommended
We can highly recommend this apartment. It is a fantastic apartment with plenty of space in an excellent location in the Old Town and minutes walk to the main square – Town Hall Square.
Note
During our stay there is a smell in the foyer and stairs (a plumbing problem), which we reported to the agent. If booking this apartment, be sure to check that the problem is fixed.
Photos of Old Town Family Apartment, Apartment 3, 4 Lai Street, Tallinn
AccommodationGuru.com
6-7 June 2017