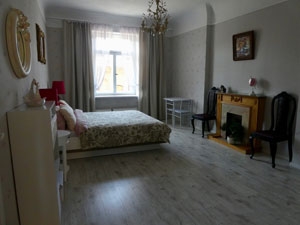 Elegant Apartment, Riga is a case of 'don't judge a book by its cover'. While the building is old and a little run down, this large 3-bedroom apartment has been recently renovated and is spacious, clean, fresh and comfortable – and excellent value for money.
We arrive at the apartment by taxi from the train station, and are met by the friendly owners who help us carry our luggage up the stairs. The apartment is on the 3rd floor and unfortunately there is no lift.
Entering the apartment, there is a short hallway, off which there are three large bedrooms, a bathroom, a separate toilet and the kitchen. The apartment has plenty of natural light and Latvian charm.
Kitchen
The kitchen is small but very well equipped. It is not a new kitchen however the cupboards have been freshly painted and it is clean, bright and cheerful. Appliances include a gas cooktop, oven, washing machine, refrigerator and microwave. There is a toaster, coffee maker, crockery, cutlery, glasses, pots, pans, tea, coffee and sugar.
Bedroom 1
The first bedroom is a very big room and has two double beds pushed together with bedside tables either side and bedside lamps. There is a small round table and two chairs, a rocking chair, cabinet with TV on top, wardrobe and a book shelf with baskets containing bath towels and hand towels. The windows run the length of the wall overlooking the street.
Bedroom 2
The second bedroom is also a big room and has a Queen bed, wardrobe, bookshelves with baskets containing our towels and a hand towels, two side tables and lamps, a small table and two chairs. This bedroom also has large windows overlooking the street.
Bedroom 3
The third bedroom, also a big room, has a double bed, bedside table and lamp, shelves, wire drawers, hanging rack, small table and chair. This bedroom has large windows overlooking an inner courtyard.
Bathroom
The bathroom has a shower over the bath, a basin and plenty of hooks.
Separate Toilet
There is a separate toilet next to the bathroom.
General
There are a couple of hanging racks provided for drying clothes, an iron and ironing board.
Public Transport
Just around the corner from the apartment we are able to catch a Trolley Bus (#15 or #19) from Gogola Street into the Old Town (we get off at the stop near the corner of Inzenieru Street and Merkela Street then walk through the pretty park to the Old Town). Riga Central Market is just under a kilometre away from the apartment and the trolley bus passes it on the way to Old Town.
Elegant Apartment, Riga – Recommended
This apartment is a surprise. Once in the building and up the stairs, the apartment is clean, comfortable and spacious. The owners are particularly friendly and helpful.
NOTE:
Elegant Apartment Riga is located at 161 Dzirnavu Street in a suburb called Latgale in the Maskavas district of Riga. The area is quite run down and there are some abandoned buildings and a few odd people around. We would not suggest walking in the area alone after dark. Having said that we had no bad experiences, however it's not for everyone.
Photos of Elegant Apartment, Riga
AccommodationGuru.com
4-5 June 2017