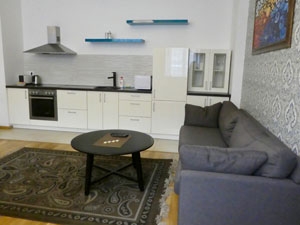 Rentida Apartments in Old Town, Vilnius, has a number of apartments on offer. We collect the key from Anna at the office of Rentida Apartments, who takes us to our accommodation, a short walk away. However we don't have an apartment – we have a 2-storey house!
We enter the foyer area where there are hooks for our coats, a small bench containing four pairs of indoor slippers (individually packed). There is a living/dining/kitchen area off the foyer and a small bathroom, and a timber staircase to the upper level where there are two bedrooms and a bathroom.
The house has central heating throughout (switched off during our stay as we don't need it). The house is warm without the central heating at this time of year.
Living/Dining Room
The open plan living room has a large bookshelf, television, sofa, coffee table and a dining table for four. There are two large windows (with attractive security bars) giving plenty of light and fresh air to the room.
Kitchen
The kitchen is along one wall of the living room and has a fridge, microwave, oven and cooktop. It is well stocked with 4 sets of crockery (no bowls), glasses and coffee cups. There are a couple of pots, a frypan, cutlery, toaster and kettle. Everything is spotlessly clean.
Downstairs Bathroom
The small bathroom downstairs has a toilet, basin and washing machine.
Next to the bathroom there is a cupboard that contains an ironing board, iron, clothes rack, and vacuum cleaner.
Bedroom 1 Upstairs
The main bedroom has a very comfortable queen bed, bedside tables, wardrobe and sideboard. We are able to open the window for fresh air.
Bedroom 2 Upstairs
The second bedroom has twin beds, bedside tables, a chest of drawers and armchair. There are two large windows providing plenty of light and fresh air.
Bathroom Upstairs
There is a good-sized bathroom with shower, basin and toilet.
Highly Recommended
Our accommodation is clean, comfortable and in an excellent location. We look onto an inner courtyard and walk through two arches to the street where there are restaurants, coffee shops and our favourite – Crustum bakery. It is a moment's walk to Town Hall Square and about 10 minutes through the Old Town to Cathedral Square.
Photos of 2-Bedroom House, Rentida Apartments
AccommodationGuru.com
2-3 June 2017