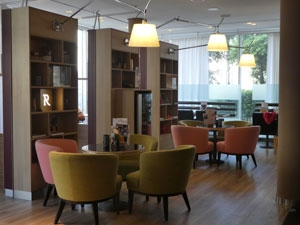 The Mercure Hotel Berlin City is an excellent 4-star hotel and an ideal place to stay when visiting Berlin.
Standard King Room
We have a Standard King Room – Room 315 on the third floor. It is a good sized room with bathroom immediately on our right as we enter.
The design of the room and features are excellent. There is a small hanging space and shelf near the bathroom, a full length mirror, pull down luggage rack, air conditioning that can be controlled in our room, a couple of hooks as we come in the door, light switches for main light and lamps near our bed, a little shelf under the bedside 'table'.