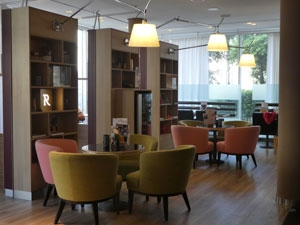 The Mercure Hotel Berlin City is an excellent 4-star hotel and an ideal place to stay when visiting Berlin.
Standard King Room
We have a Standard King Room – Room 315 on the third floor. It is a good sized room with bathroom immediately on our right as we enter.
The design of the room and features are excellent. There is a small hanging space and shelf near the bathroom, a full length mirror, pull down luggage rack, air conditioning that can be controlled in our room, a couple of hooks as we come in the door, light switches for main light and lamps near our bed, a little shelf under the bedside 'table'.
We love the long desk from one side of the room to the other under the window – plenty of space for our computers. There are two comfortable chairs at the desk and large desk lamp for added light. Wifi is free.
On the desk there is a medium-sized television at one end and a tray with kettle, cups, coffee, tea at the other end. Under the desk there are a couple of small cupboards, one contains a small safe.
There is plenty of natural light in the room from the window above the desk – and the window opens so great to have fresh air. We look onto the Museum of Natural History (Naturkundemuseum) next door.
There is no bar fridge in the room.
There is a king bed with two side tables and lamps. The bed is actually two beds pushed together and two separate doonas are provided. The beds are very comfortable.
The bathroom is small but well designed. There is a hairdryer and toiletries including soap, shower cap, vanity set, conditioning shampoo, bath/shower gel plus hair/body soap dispenser in the shower. A nice touch in the bathroom is a shaving mirror with regular mirror one side and magnified mirror on the other.
Ironing Room
There is an ironing room on the 4th Floor – we have to get a key from Reception to access the ironing room – a bit of a nuisance. There are two ironing boards and irons for guests to use in the ironing room.
The Bar/Restaurant, Ground Floor
The bar area is very attractive and comfortable where guests can also order meals. We have dinner there on our last night in Berlin and the food is delicious.
Breakfast Room
There is a large, attractive restaurant on the ground floor where breakfast is served every morning. It is an excellent buffet breakfast – with delicious food on offer.
Business Centre, Ground Floor
Just near the Lobby there is a small space where guests have access to two computers.
Shop, Ground Floor
In the Lobby there is a small shop where you can buy snacks, cool drinks, wine, books and souvenirs.
Hotel Staff
The staff at the hotel are very friendly and helpful – a pleasure to stay here. The lady on the desk to the Breakfast Room deserves a special mention – she is so welcoming and friendly.
Public Transport
The hotel is very well located to public transport – seems to be central to everywhere we want to go – with tram right outside, metro around the corner and the main train station nearby – we couldn't be better placed.
Tram Station – across the road is a tram station (Invalidenpark)
U-Bahn (metro/subway) – just around the corner is Naturkundemuseum U-bahn
Central Railway Station – Berlin Hauptbahnhof is just a 15-minute walk away, or a few minutes tram ride.
If travelling on public transport, it is a good idea to buy a Berlin Welcome Card from the Tourist Information centre – the closest to the hotel is at the Berlin Hauptbahnhof.
Recommended Restaurants Nearby
There are a couple of restaurants near the hotel that we can recommend:
Restaurant Schnitzelei – down a laneway accessible via Chausseestr. 8 – an attractive restaurant serving delicious schnitzels, 5 minute walk from hotel.
Dada Falafel, Linienstrasse 132 – delicious Middle Eastern food, 10 minute walk from hotel.
Standige Vertretung, Schiffbauerdamm 8 – a tavern beside the River Spree serving authentic German cuisine, 15 minute walk from hotel
Mercure Hotel Berlin City – Highly Recommended
We can highly recommend the Mercure Hotel Berlin City. It is modern, well located, has friendly staff and excellent facilities, is clean and comfortable. We cannot fault it.
Photos of Hotel Mercure Berlin City, Invalidenstrasse 38, 10115 Berlin. Telephone (+49) 3030826890
AccommodationGuru.com
23-27 May 2017