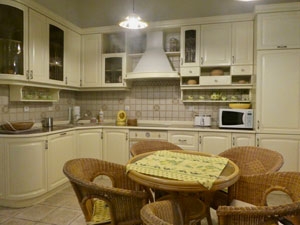 Apartment Grabowskiego is a 2-bedroom, ground floor apartment in an excellent location just seven minutes walk to Krakow's Old Town Square.
Our host met us at the apartment, gave us the key and a map of Krakow. It was very helpful to have a quick orientation of the Old Town, nearby supermarkets, corner stores and places to eat.
The apartment seems more like a house with its high ceilings, large rooms and beautiful timber flooring throughout.
Lounge
The lounge area is spacious and furnished with comfortable leather sofas and chairs, coffee table, television and timber sideboard and mirror. There is a fireplace in one corner. Doors open off the lounge area to an outdoor balcony that faces an inner courtyard.
Kitchen
The charming kitchen features an attractive cane table and chairs setting. It is a full kitchen with oven, cooktop, refrigerator and microwave. It is well stocked with crockery, pots, pans, utensils, etc. Some condiments are supplied.
Bedroom 1
The first bedroom is near the front door of the apartment and has lovely timber double doors with frosted glass panels. It is a large room with a king bed and a single bed, bedside tables, a wardrobe and single lounge chair.
Bedroom 2
The second bedroom is off the lounge area and entered through double timber doors with frosted glass panels. This bedroom also has a king bed and a single bed. It is also a large room. There are bedside tables and lamps, plus a sideboard and a wardrobe. There are two windows above the king bed giving plenty of natural light in the room. There are roller blinds above the windows if you want to black out the light. All beds are very comfortable.
Bathroom
The bathroom has a shower over a deep bath, basin, toilet and washing machine.
We have warm weather during our stay at the end of May however for cold weather the apartment has panel heating throughout.
Eating Out
We can recommend these restaurants that we visit close to the apartment:
Zielona Kuchnia, ul. Grabowskiego 8/9, Phone +48 12 634 55 22. Almost next door to the apartment you will find one of the best restaurants in Krakow! (zielonakuchnia.eu/pl). Delicious meals.
Sissi Organic Bistro, Krupnicza 3, 31-123. We sit in the pretty courtyard at the back. The waiter is friendly and helps us choose from the menu. We have delicious mains and desserts. Highly recommended. (sissiorganicbistro.pl)
Mamma Mia Trattoria, Karmelicka 14 – we have delicious pizza at this popular restaurant, just a couple of minutes walk from our apartment. (mammamia.net.pl/pl)
Restaurants recommended that we didn't get to but may be worth visiting:
Kutchnia u Doroty (Kitchen with Dorothy): ul. Augustianska 4, Krakow 31-065, (facebook.com/pg/kuchniaudoroty/about)
Zazie kr – Mediterranean cuisine, one Michelin star without the price tag, advisable to make a reservation: Joseph 34, 31-056 Krakow, Phone 500 410 829. (www.facebook.com/zazie.bistro)
Kompania Kuflowa (Pod Wawelem Kompania Kuflowa): Swietej Gertrudy 26-29, 33-332 Krakow, Phone 12 421 23 36 – Polish cuisine. (podwawelem.eu)
Recommended Grocery Store
There are a few grocery stores within a few minutes walk from the apartment. Our favourite is Spozywczy Kocyk at ul Karmelicka 42 (corner of Karmelicka and Piotra Michalowskiego). It is open 24 hours a day. There is also a very good Spar grocery store nearby.
Apartment Grabowskiego – Recommended
We enjoyed our stay in this spacious apartment. It is clean, comfortable and has a great location.
Photos of Apartment Grabowskiego, Grabowskiego 4/1, Old Town, Kraków
AccommodationGuru.com
28-30 May 201