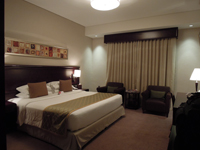 We travelled to Dubai in June 2013 – as a stopover between London and Sydney.
A couple of days before leaving London, we were able to book a room at The Ramada Jumeirah Hotel at a very good price by Dubai standards. We found the new four star Ramada Jumeirah (built 2011) to be excellent value for money.
Our Classic Room was very spacious and the bathroom was one of the largest we have found in any hotel. Room facilities were excellent – we particularly liked the long desk – plenty of room for our computers. Unfortunately WIFI was not free except for the first hour.
There was a small rooftop pool plus a Health Club and Spa for guests. (more…)