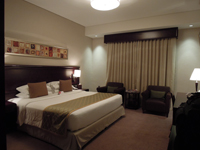 We travelled to Dubai in June 2013 – as a stopover between London and Sydney.
A couple of days before leaving London, we were able to book a room at The Ramada Jumeirah Hotel at a very good price by Dubai standards. We found the new four star Ramada Jumeirah (built 2011) to be excellent value for money.
Our Classic Room was very spacious and the bathroom was one of the largest we have found in any hotel. Room facilities were excellent – we particularly liked the long desk – plenty of room for our computers. Unfortunately WIFI was not free except for the first hour.
There was a small rooftop pool plus a Health Club and Spa for guests. A buffet breakfast is available in the hotel's Cuisine restaurant – we found it a little expensive however it was convenient. Lunch and dinner is also served.
We enjoyed a couple of meals in the hotel's excellent Asian restaurant – Ginger. Very friendly staff, modern decor and delicious food. It is ideal for lunch or dinner.
The Ramada Jumeirah Hotel is on Al Mina Road – not the most glamourous location – however it is central to many of the attractions of Dubai – approximately 5 minute drive to Jumeirah Mosque, 5-10 minute drive to Old Dubai, 10 minute drive to Mercato Shopping Mall, 20 minute drive to Souq Madinat Jumeirah, 20 minute drive to Palm Island, 15 minute drive to Dubai Mall, 15 minute drive to Mall of the Emirates and a 20 minute drive to the Airport.
The hotel is a long way from a metro station (at least 30 minutes walk) and the best way to get around is to use local taxis or the hotel shuttle bus. The hotel offers a scheduled, complimentary shuttle bus service to Jumeirah Beach, Dubai Mall and Mercato Mall. There is a bus stop very close to the hotel however at the time of year we visited Dubai (summer) we could not even contemplate walking in the heat to catch a bus!
We rented a car from the airport but were unable to obtain a detailed road map and found it tricky to find our way around. Parking at the hotel is no problem as there is free valet parking.
Staff at the hotel were particularly courteous and friendly. The concierge booked a tour to the desert, was most helpful with directions and local information.
If you want to stay on the beach, close to a metro station or above a shopping mall, then Ramada Jumeirah Hotel is not for you. If you want a well-priced, clean, spacious, modern Dubai hotel then Ramada Jumeirah should fit the bill.
Book the Ramada Jumeira Dubai
See more photos of Ramada Jumeirah Dubai
AccommodationGuru.com
June 2013