Radisson Blu Gautrain Hotel, Sandton, Johannesburg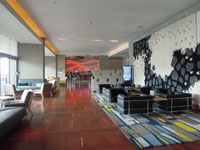 After a long day's drive, we arrived in Johannesburg to check into the lovely Radisson Blu Gautrain Hotel.
Reception is located on the 3rd floor, accessible by lift from either the underground car park or the street level entrance (which is where the Concierge Desk is located).
On check in, the type of room (a double room) we had booked was not available so we were kindly upgraded to a Business Class Room – Room 402 – a spacious room and bathroom on the 4th floor.