The City Lodge Hotel OR Tambo International Airport – Johannesburg is very convenient, comfortable and affordable accommodation at OR Tambo Airport.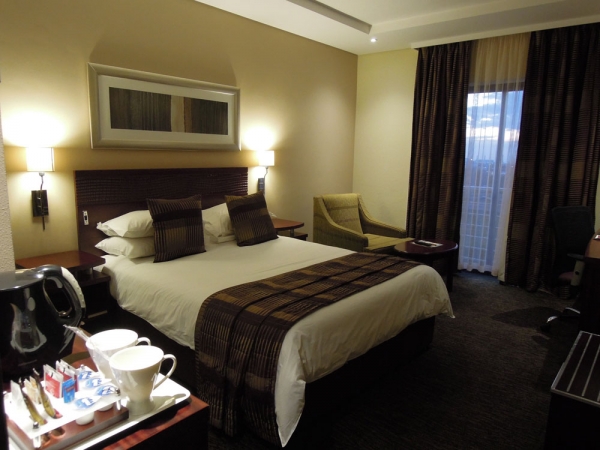 On arrival at Johannesburg we cleared Immigration and Customs, walked into the Arrivals area and caught a lift to the 2nd floor of the terminal to make our way to Hotel City Lodge.
The hotel is a little hard to find – it's located on top of a car park and you will see it through the large windows on your right as you walk and follow the signs to Parking Level 2 and the hotel. We wheeled our trolleys with luggage, reached the hotel lift and made our way up to Reception. No transfers, no taxis, no waiting. After a 12.5-hour flight from Sydney, it's just a few minutes walk off the plane, across to the hotel, without leaving the terminal building.
We checked into Room 2191 on the 2nd floor facing the road. We like the 2nd floor for security reasons, as we prefer to sleep with the window/balcony door open for fresh air. There can be traffic noise, so if that worries you we suggest requesting a room facing the courtyard.
The rooms are a good size, with a queen bed, a desk, TV, full-length mirror, wardrobe, safe, armchair, small coffee table and air-conditioning. There was, however, no mini bar in our room.
The bathroom is spacious and has a bath, separate shower and good-sized vanity. An unusual feature is the electronic shutter between the bedroom and bathroom.
The hotel has very attractive common areas including a courtyard, pool and fitness room. There is a bar plus a large coffee shop serving a variety of hot and cold light meals, sweets, hot and cold drinks. We enjoyed a light dinner with a bottle of wine and the food was tasty and service good. The buffet breakfast next morning was delicious.
There is an in-room dining Menu with food available from Spur Steak House, Panarottis Pizza, Fishaways, and Nandos. Alternatively, if you don't want to eat in the hotel, the food court and shops of the airport terminal are just a short walk away.
Whether you are in transit, or visiting Johannesburg for a couple of days, City Lodge Hotel at Johannesburg Airport fits the bill for clean, comfortable and affordable accommodation.
Photos of City Lodge, Johannesburg
AccommodationGuru.com
April 2015