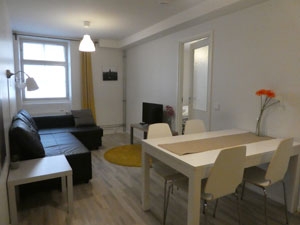 Experience Living Apartments manage a number of apartments throughout Helsinki. We book a two-bedroom apartment with a sofa bed in the living room. It is a modern apartment in a good location close to public transport.
Our apartment is Apartment 81, 2nd Floor, Eerikinkatu 43D, Helsinki. We collect the key to the apartment from the office of Experience Living Apartments and take a taxi to our accommodation.
We enter the apartment building through a locked metal gate from the street, and then walk through a courtyard to the front door of the building then up a flight of stairs to the 2nd floor (in Australia we would call it the first floor).