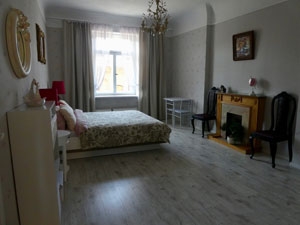 Elegant Apartment, Riga is a case of 'don't judge a book by its cover'. While the building is old and a little run down, this large 3-bedroom apartment has been recently renovated and is spacious, clean, fresh and comfortable – and excellent value for money.
We arrive at the apartment by taxi from the train station, and are met by the friendly owners who help us carry our luggage up the stairs. The apartment is on the 3rd floor and unfortunately there is no lift.
Entering the apartment, there is a short hallway, off which there are three large bedrooms, a bathroom, a separate toilet and the kitchen. The apartment has plenty of natural light and Latvian charm.