Radisson Blu Gautrain Hotel, Sandton, Johannesburg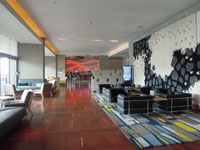 After a long day's drive, we arrived in Johannesburg to check into the lovely Radisson Blu Gautrain Hotel.
Reception is located on the 3rd floor, accessible by lift from either the underground car park or the street level entrance (which is where the Concierge Desk is located).
On check in, the type of room (a double room) we had booked was not available so we were kindly upgraded to a Business Class Room – Room 402 – a spacious room and bathroom on the 4th floor.
The room featured a comfortable king-sized bed, wardrobes, a lounge chair and glass side table, plus a long desk with television above it. We had a stocked mini bar, safe, iron and ironing board, Nespresso machine and kettle.
There was a long bench for our luggage, large bedside tables, lamps and reading lights. The window didn't open however there was very efficient ducted air-conditioning for which we could regulate the temperature. The room also featured a large mirror near the entry to the bathroom.
In the bathroom there was a large shower with rain head, a full sized bath and pedestal basin. We were provided with a hairdryer, a full set of toiletries, vanity & sewing kits and scales (handy for weighing our luggage).
Business Class Rooms include parking (normally 30 Rand per day).
It was very convenient on our first night to have dinner in the hotel's restaurant on the 3rd floor – very nice décor. There was a good menu and we chose pasta and a Greek salad – delicious.
To organise a tour of Johannesburg and Soweto for the following day, we visited the concierge/tour desk on the ground floor. The friendly staff suggested a couple of options and we decided on a driver and car for just the two of us.
A delicious and extensive buffet breakfast was available on the 3rd floor restaurant of the hotel, plus lunch. It was very convenient to be able to eat at the hotel and we can highly recommend the food and service.
Also on the 3rd floor is a bar and terrace overlooking the pool, which was very busy on Friday night.
The hotel is a short walk from Sandton Mall and Mandela Square. Unfortunately on our visit, there were renovations underway in both the mall and Mandela Square so they weren't looking their best. However we can highly recommend the Radisson Blu Gautrain Hotel for its friendly staff, modern and clean rooms, and excellent bar and restaurant.