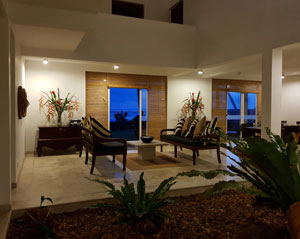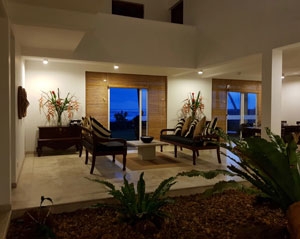 After a long drive from Ella, we arrive at Villa Amandhira at Thalpe, on Sri Lanka's South Coast – and it is paradise!
We are presented with cold face washers, and the staff carry our bags to our rooms while we are served cool drinks on the terrace overlooking the garden and the sea.
The villa is amazing. It is a luxurious, modern villa that has been architecturally designed. The furniture and styling is very tasteful. We love the polished concrete floors, the white walls, the teak coloured timber furniture, the fresh flowers and the ocean view. In fact the villa is right on the beach. We have access to the sand via a gate (that is locked every night). The sunsets are incredible. An added bonus is that a stilt fisherman appears every afternoon/evening just out front of the villa.
We have a number of staff looking after us including Mervyn, who is in charge and serves our meals, organises tuk tuks, etc, and Bandula, the chef who has a beautiful smile and cooks delicious breakfasts and dinners every evening we are there (while breakfast is included, dinner is not compulsory – you let them know if you want to eat in and what you would like cooked). They will even pack a lunch for you. The cost of an evening meal is very reasonable – about A$12 per person.
Morning tea and afternoon tea are served on the terrace – including snacks such as rolled pancakes, chocolate cake and little vegetable samosas.
The villa is 2-stories with an open plan living/dining area downstairs plus a TV lounge area. There are three bedrooms – two upstairs and one downstairs.
Living/Dining Area
Open plan, this area is very tastefully decorated. The dining table seats 8, there are a couple of oversized lounge chairs in front of the doors opening onto the garden.
Bedroom 1
This is the larger of the two bedrooms upstairs as it has a nook for a desk plus a little table and chairs. It is a very large room with a king-sized, four poster bed with a mosquito net canopy. There are bedside tables and a complimentary bottles of water. The two large windows (more like doors) overlook the garden and the ocean.
Just before we enter the bathroom, there is a dressing room where we store our luggage and hang our clothes.
The bathroom is huge and beautifully done. The vanity is made of polished concrete with a basin set on top. There is a toilet and bidet. The shower, which has a frameless glass screen, is huge. There is a rain shower and a regular shower head to choose from. While soap, shampoo and conditioner are supplied, there are no tissues or hairdryer.
There are two ceiling fans and an air conditioning unit to keep us cool.
Bedroom 2
Opposite bedroom 1, is bedroom 2, with windows and double doors opening onto the top balcony and overlooking the garden and the sea.
It has a king-sized bed with mosquito net canopy, two bedside tables and lamps, and a wardrobe. The bathroom is very big.
There is air conditioning on the wall and ceiling fan.
Bedroom 3
This is the only bedroom downstairs and it opens onto the terrace and the pool.
There is a small desk, luggage rack, double wardrobe, bedside tables and lamps. There is a ceiling fan and air conditioner on the wall to keep cool. The queen-sized bed has a mosquito net canopy over it. There is a window and double doors opening onto the patio and pool. The bathroom is huge!
WIFI and Mobile Reception
Mobile reception at the villa is a bit hit and miss. It seems to be in a bit of a dead spot for mobile coverage (with Dialogue) however there is WIFI.
Location
Villa Amandhira is located at Thalpe – right on the beach. While it is on the main road to Galle there is no traffic noise. We like the location as we are only about a 20-minute tuk tuk ride into Galle, and close to the other beaches along the coast. 
Villa Amandhira – Highly Recommended
We can highly recommend a stay at Villa Amandhira. It is a stylish, luxurious villa with a beautiful beachfront location. The staff are attentive and friendly; the meals delicious. It is ideal for a family or group of friends travelling together.
Photos of Villa Amandhira, Thalpe
AccommodationGuru.com
20-23 October 2017