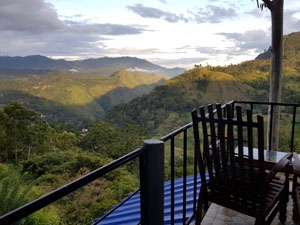 Will Guesthouse Homestay offers three guest rooms, one on top of the other, built on the edge of the mountain. Each room has a little balcony with spectacular views.
We had a warm welcome from Will who helps with our luggage.
We take the bottom room, down a short flight of stairs. There is a balcony with table and chairs, then sliding glass doors into the bedroom.
There are two beds, one QS and one single. Both have mosquito nets. There is no air conditioning but there is a pedestal fan. It is not hot and humid here in the mountains so the fan is all we need. There is a little bar fridge in our room.
The bathroom is off the bedroom. It is like a wet room with a pedestal basin, toilet and shower with no screen or curtain. There is a hairdryer.
The middle room is at street level, has a double bed, an ensuite bathroom, tiled floors and is decorated in muted colours.
The upper room is accessed up a flight of stairs. The room is carpeted and the walls are timber. It also has an ensuite bathroom.
Will's wife and family cook dinner for us and serve the meal in their home. There is a delicious selection of Sri Lankan dishes – chicken, dahl, rice, vegetables and condiments. The family are very hospitable and friendly.
We also ate breakfast in the family's home across the road – a beautiful spread of eggs, toast, large fruit platter each, pancakes, tea and coffee.
Will Guesthouse Homestay is fairly basic accommodation. It is accessed by a steep, winding road – rewarded with magnificent views. Will and his family are wonderful hosts – very friendly and helpful. 
Photos of Will Guesthouse Homestay, Ella
AccommodationGuru.com
19 October 2017