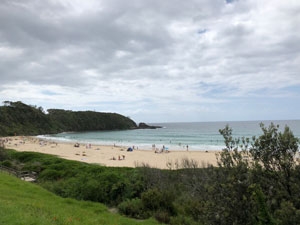 Mollymook is located on the South Coast of NSW, about a 3.5-hour drive south of Sydney. It has a beautiful beach, a slow-paced lifestyle and some fabulous restaurants – an ideal summer holiday destination.
The Allure on Ocean Motel is a small, family owned motel with just 11 beautifully refurbished rooms. What a find it was! It is ideally located – just a few minutes walk from the beach. From the moment we were greeted by the lovely owner, Belinda, we felt welcomed and relaxed.
The rooms have been thoughtfully renovated and redecorated. It is amazing how many amenities have been included in the room – without a feeling of clutter or overcrowding. Most rooms have a view of the ocean and it is wonderful to have a security screen door for fresh air at night.  
Our room, Room 11, featured a Queen-sized bed, bedside tables, desk, two easy chairs and coffee table. There is a kitchenette with microwave, basin, toaster, kettle, coffee machine, cutlery, crockery, tea and coffee provided. In the wardrobe were a couple of beach towels, iron and ironing board. All rooms have air conditioning.
A Continental breakfast hamper is provided each morning – included in the room rate.
The bathroom is modern and beautifully designed – and the shower wonderful!
Parking is underneath the rooms and most of the rooms are on the first floor, accessed by stairs (there is no lift).
Allure on Ocean Motel – Highly Recommended
This is the best motel we have stayed in – clean, stylish and comfortable. It is excellent value for money.
Mollymook
Mollymook Beach is a long, white sandy beach, ideal for long walks and swimming.
Ulladulla is a few minutes drive away and this is where you will find the shops – there is Woolworths, Coles, Aldi, Target plus many speciality shops.
There is a good selection of excellent places to enjoy a meal in and around Mollymook. Our favourites included:
Bannisters Pavillion Rooftop Bar & Grill
Bannisters Poolside Bar
Tallwood
St Isadore (in Milton)
Cuppitt's Winery & Restaurant (Milton)
Pilgrim's (Milton) for brunch or lunch
Mollymook is an ideal destination for a relaxing few days by the sea and the Allure Ocean Motel is a great place to stay.
Photos of Allure on Ocean Motel Mollymook
AccommodationGuru.com
1-5 January 2018