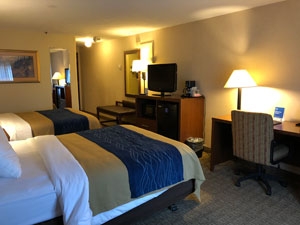 The Comfort Inn Downtown, Ship Creek, is a good value hotel in Anchorage – an expensive town for accommodation.
We receive a friendly welcome when checking in and are allocated Room 227 one floor up from reception. It is a large room with 2 queen beds and good sized bathroom overlooking the railway line and the street towards downtown Anchorage.
Photos of Comfort Inn Downtown Ship Creek
Room 227 is well equipped and furnishings include:
Two Queen beds – very comfortable
Luggage rack
TV console with good sized fridge, microwave, coffee maker
Desk and Chair
Only one bedside table and lamp
Couple of mirrors on wall including full length mirror
Opening window for fresh air
Small space with clothes hangers to hang clothes + iron and ironing board
The bathroom is a good size, however the shower is over the bath. Toiletries are provided.
Breakfast is included in our rate and includes scrambled egg, sausage, cereal, toast and pastries, waffles, coffee, juice etc in breakfast room downstairs.
Other facilities include a guest laundry on our floor with coin operated washers and dryers, a drink dispensing machine and ice machine also on our floor. There is a gym and small swimming pool on site. There is free WIFI which is a bit slow at night but good next morning.
There is a lift or stairs up to our floor, and free car parking on site.
The hotel is located near the Anchorage Railway Station, the Ship Creek Pedestrian Bridge (where locals fish for salmon in season), and the Ulu Factory is next door. To reach the centre of Anchorage is a 5 minute drive or 15 minute walk (uphill). The Ship Creek Trail is right in front of the hotel.
For a delicious dinner in Anchorage, we can highly recommend the Glacier Brewhouse. It has a great atmosphere with high timber-beamed ceilings and huge stone fireplace. It is very popular so it's advisable to book. When we arrived at the restaurant there was a 45-60 minute wait for a table or we could sit at a communal table near the bar and order dinner – which we did – and sat next to a couple of friendly locals.
AccommodationGuru.com
14 May 2018