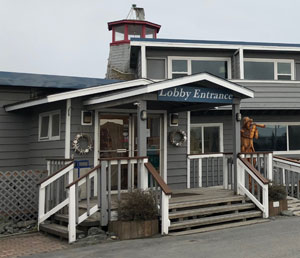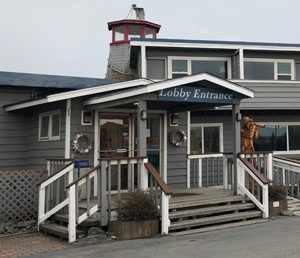 Land's End Resort has a wonderful location – at the tip of The Spit in Homer.
We booked into Room 206, on the first floor, up one flight of stairs (no lift) and in the original hotel building (built in 1958). We booked one of the cheapest rooms (Port City Room) – without a view. Rooms on the other side of the hallway have sensational views of the water and snow-capped mountains.
Room 206
Our room is small but cosy and charming.
There is a double bed pushed up against a wall. There is a good-sized desk (with a small bar fridge underneath) and one chair. There is more bench space in one corner near the bed and it has a microwave and coffee plunger.
There is a small hanging space with coat hangers (a small TV sits on top of the hanging space), and hooks near the front door.
The bathroom is very small with a toilet, and shower above the bath. The hand basin is in the bedroom – just outside the bathroom door.
Our room has a small balcony and windows that overlook the car park.
Hotel Amenities
In the Lobby there is a Guest Services desk (only open in Summer) providing information on tours and activities. Bicycles are for hire as are binoculars and games.
There is an Espresso & Gift Shop – also on Ground Floor.
The Fitness Centre is located next to Guest Services in the hotel lobby. Facilities include endless lap pool, sauna, treadmill, bike and oceanfront outdoor hot tub.
The Chart Room Restaurant & Bar is located next door to the hotel however we did not eat there.
Land's End Lodges
As well as hotel rooms, Land's End Resort offer accommodation in individually owned 1-4 bedroom waterfront homes. These are fully self-contained and offer beautiful views.
The Spit
The Spit is an interesting place and is a mix of working harbour, tourist shops, cafes and restaurants. We are about a 10-minute drive from downtown Homer so it is advisable to have a car.
Land's End, Homer – Recommended
We enjoyed our stay at the Land's End Resort. We would not describe the accommodation as a 'resort' – more like motel accommodation. Our room was cheerful, clean and comfortable. The hotel has a quaint atmosphere and has sensational views from bay-view rooms, the restaurant and the deck.
AccommodationGuru.com
15 May 2018