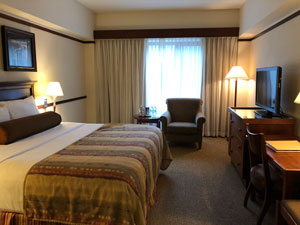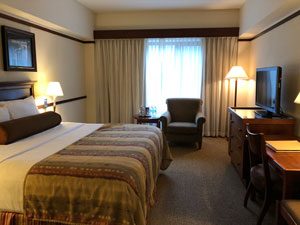 The Alyeska Resort is a 4-star hotel in the pretty township of Girdwood – about a 50-minute drive from Anchorage. The hotel has a beautiful setting with mountain views. The Alyeska Resort is best known as a ski resort but is also popular outside the ski season.
On arrival we have a quick and easy check in.
Room 409
We have Room 409 on the 4th floor with a beautiful view of the mountains covered in snow.
The room is large and features a king-size bed, desk, luggage rack, chest of drawers with TV on top, an easy chair and coffee table.
On our right as we enter the room there is a wardrobe with 2 robes, a hairdryer, iron ironing board, safe, fan and small refrigerator.
The bathroom basin is opposite the wardrobe and the bathroom is separate and a shower over the bath.
We love the room – it is very warm, cosy and comfortable with large windows looking out onto the trees and the snow-covered mountain quite close by.
Amenities
Pool & Fitness Centre
Shopping – Glacier Gift & Gallery, The Sundry Shop, Alyeska Mountain Shop
Spa
Glacier Valley Transit – free shuttle bus to Girdwood shops and restaurants
Pond Café
Tramway Café
Aurora Bar & Grill
Sakura Asian Bistro
Large outdoor car park
Alyeska Aerial Tram & On Mountain Dining
The Alyeska Aerial Tram departs from the hotel and at the top there are beautiful views, the Roundhouse Museum, Seven Glaciers restaurant and the Bore Tide Deli & Bar.
Alyeska Resort – Highly Recommended
We can highly recommend a stay at the Alyeska Resort – it is a beautiful location with warm, clean and comfortable rooms and plenty of activities and dining options – in the hotel and nearby. During our stay in Girdwood we had a delicious meal at Jack Sprat restaurant, a few minutes drive from Alyeska Resort.
AccommodationGuru.com
16 May 2018