Planning a trip to Yellowstone National Park can be a bit overwhelming due to the size of the park (over 2 million acres) and the figure-8 Grand Loop road system (Grand Loop 142 miles). It can be difficult to know how to best navigate the park to see the sights – especially if you have limited time.
We spent just over two days in Yellowstone and this is a bare minimum! There is so much to see and many walking opportunities. There are boardwalks for viewing amazing thermal areas, scenic drives, wonderful overlooks and wildlife viewing.
We hope this blog will assist you in planning your trip.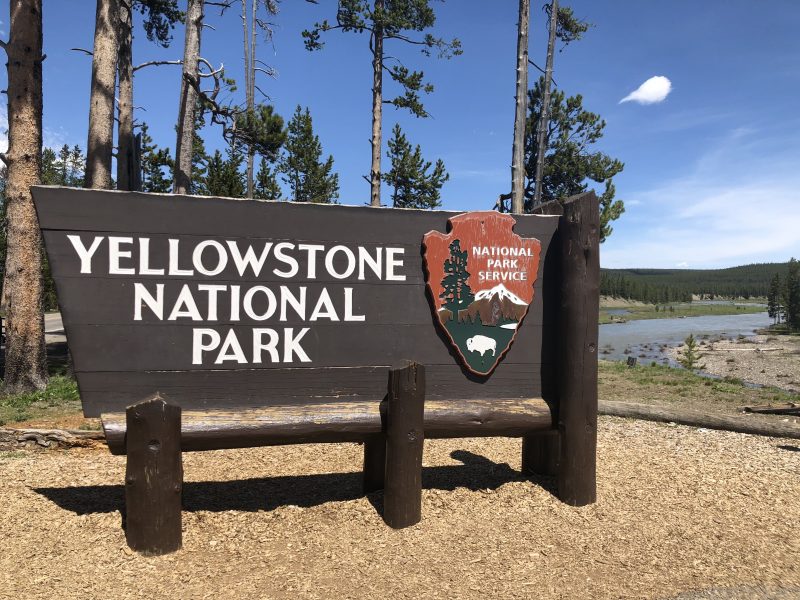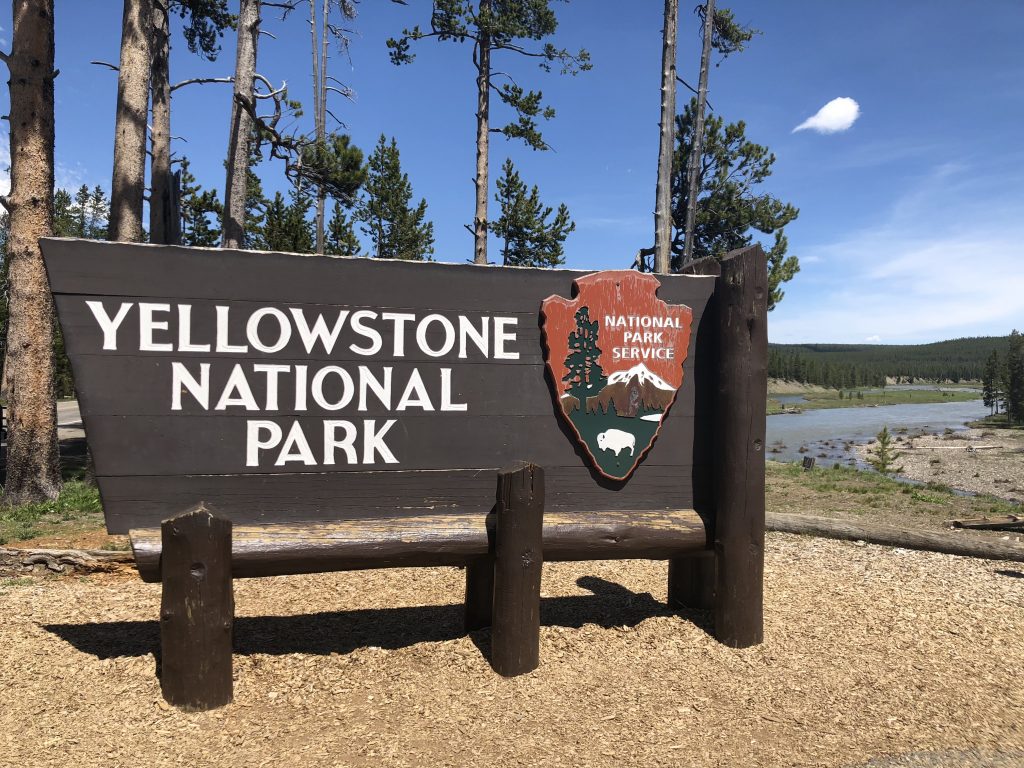 Plan Your Visit
There are five entrances to the park and which one you choose will depend, of course, on your itinerary and what time of year you visit.
A good place to start planning a trip is with the Yellowstone National Park – Plan Your Visit website – https://www.nps.gov/yell/planyourvisit/index.htm and also Places to Go web page.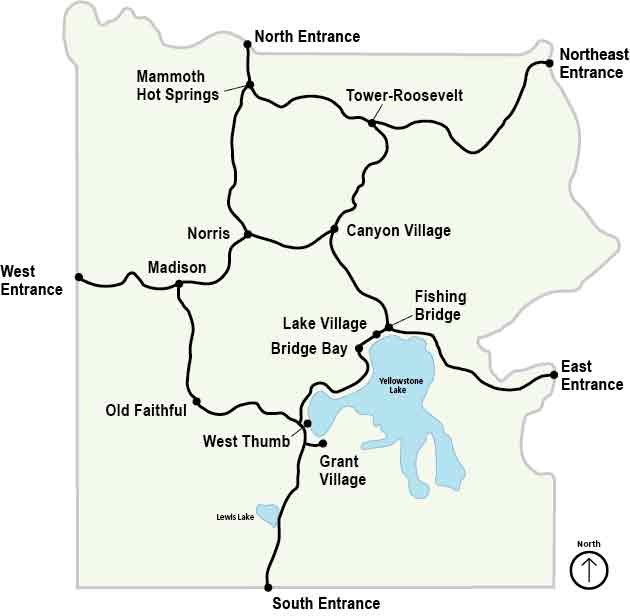 Map Source: https://www.nps.gov/yell/planyourvisit/placestogo.htm
We visited Yellowstone NP as part of a road trip through the United States – beginning in Seattle, across to Yellowstone then down through numerous US national parks ending up in Las Vegas.
Hiring a car in Seattle, it was a two-day drive to the West Entrance of Yellowstone with overnight stops in Selah and Butte. If you don't want to drive all that way, there are small airports near Yellowstone National Park at:
Cody and Jackson, Wyoming
Bozeman and Billings, Montana
Idaho Falls, Idaho
West Yellowstone, Montana (flights in summer only – June to September)
Car hire in these towns may be limited. Jackson Hole has more options for rental cars (for example, one way drop offs).
Immediately below, we have given a summary of our two-and-a-half day itinerary in Yellowstone National Park, and further down we have given the itinerary in more detail.
SUMMARY OF ITINERARY FOR YELLOWSTONE NATIONAL PARK
Day 1 – Upper Loop
Enter via West Entrance
Norris Geyser Basin
Mammoth Hot Springs
Roosevelt Lodge and Lamar Valley
Accommodation: Roosevelt Lodge
Distances Travelled on Day 1
West Entrance to Norris Geyser Basin: 28 miles/46kms
Norris Geyser Basin to Mammoth Hot Springs: 21 miles/34kms
Mammoth Hot Springs to Roosevelt Lodge: 18 miles/29kms
Day 2 – Lower Loop
Grand Canyon of Yellowstone – North Rim & South Rim
Hayden Valley
Mud Volcano & Dragon's Mouth Spring
Fishing Bridge & Visitor Information Centre
Lake Village: Lake Hotel & Lake Yellowstone
Old Faithful: Upper Geyser Basin, Midway Geyser Basin
Accommodation: Canyon Lodge
Distances Travelled on Day 2
Roosevelt to Canyon Village: 19 miles/31kms
Canyon Village to Lake Village: 16 miles/26kms
Lake Village to West Thumb: 21 miles/34kms
West Thumb to Old Faithful: 17 miles/27kms
Old Faithful to Madison: 16 miles/26kms
Madison to Norris: 14 miles/23kms
Norris to Canyon Village: 12 miles/19kms
Day 3 – Canyon Village to South Entrance
West Thumb Boardwalk on the way out of the park
Exited Park at South Entrance
Accommodation: Jackson (after driving through Grand Teton National Park)
Distance:
Canyon Village to South Entrance: 59 miles/95 kms
DETAILED ITINERARY – YELLOWSTONE NATIONAL PARK
YELLOWSTONE NATIONAL PARK – DAY 1 
Enter Park via West Entrance
After a stop in the town of West Yellowstone for lunch, we enter the National Park via the West Entrance.
Today we intend to drive part of the Upper Loop – from the West Entrance to Roosevelt Lodge.
For the first few kilometres the road is lined with trees however the view soon opens up to beautiful snow capped mountains and green meadows. Following the Madison River, it is no time before we come across a herd of bison wandering across the road! We can't believe our eyes.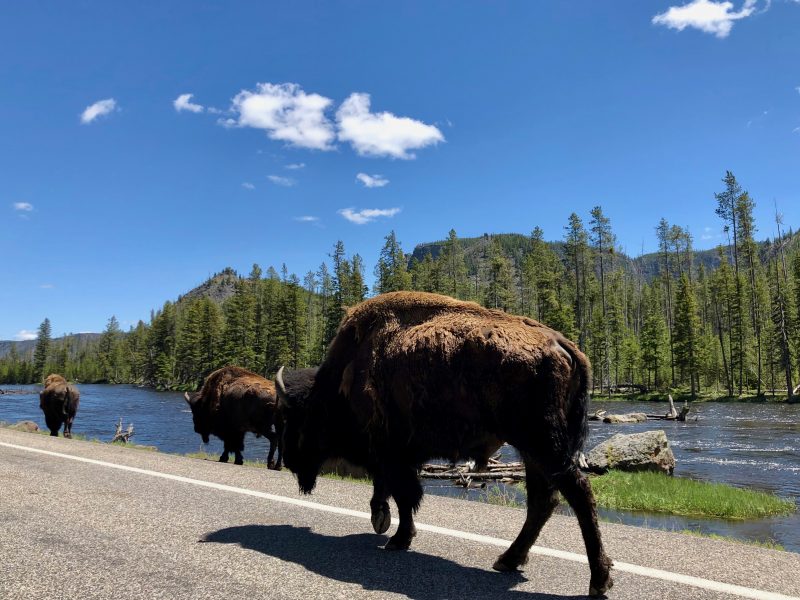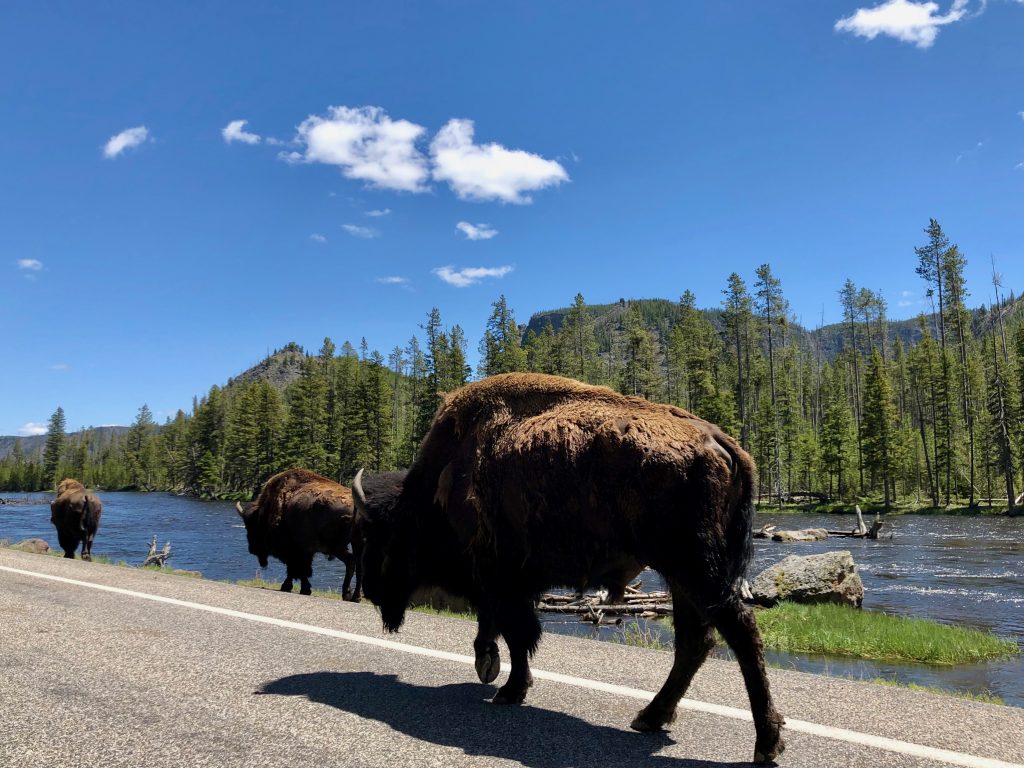 Norris Geyser Basin
The western side of Yellowstone National Park has a lot of thermal sights and our first stop is at the Norris Geyser Basin. There is a charming log cabin – the bookstore – near the entrance of the Basin and I purchase a guide to the NP – Yellowstone – The Official Guide to Touring the World's First National Park – an excellent publication. https://shop.yellowstone.org/official-guide
There is an extensive network of boardwalks here to view the various geysers, hot pools, springs and vents. There are two sections to explore:
Porcelain Basin (1.6 or 1 mile loop walk), and
Back Basin (0.6 mile loop walk)
We walk through the Museum building to the overlook and walk down to Porcelain Basin. Running short of time, we don't spend long here – however it is worth a stop.
We set off again, headed for Mammoth Hot Springs.
This next section of road is quite dramatic and offers sensational views. There are many pullovers and we make several stops:
Gallatin Range overview
Golden Gate Canyon overview
Bunsen Peak overview – evidence of the 1988 fires
Mammoth Hot Springs
Rather than driving down into Mammoth Hot Springs, we take Upper Terrace Drive, park the car and take the boardwalk to view the upper portion of the Mammoth Hot Springs terraces. This is an easier option than walking up from the bottom.
The formations are beautiful and there are excellent views of Mammoth below.
We drive down into Mammoth to view the lower terraces. It is late in the day and the Visitor Centre is closed. Mammoth has many attractive buildings and an interesting history. There are deer grazing on the lawns throughout the town.
We are booked to stay at Roosevelt tonight so set off to Tower Fall – 18 miles away. This is another beautiful drive.
Roosevelt Lodge and the Lamar Valley
On arrival at around 6.30pm, we check into Roosevelt Lodge however with only a couple of hours of daylight remaining, we set off to drive through the Lamar Valley – to view wildlife.
A few minutes after leaving the lodge, we see a number of cars by the side of the road. There has been a sighting of a bear with three cubs!
Moving on we soon see a coyote crossing the road in front of us.
This road is one of the most spectacular in the Park. We soon see large herds of bison – there are many mothers and calves; we also see deer.
Don't miss this beautiful drive!
Roosevelt Lodge – overnight accommodation
This is the most charming place – an historic log cabin building housing reception and the restaurant. Accommodation is in simple timber cabins.
We arrive back at the lodge around 8.30pm for dinner. Our table is by the window with a beautiful view of snow-capped mountains.
We spend the night in one of the charming Roosevelt Roughrider Cabins.
YELLOWSTONE NATIONAL PARK – DAY 2 – LOWER LOOP
Drive from Roosevelt to Canyon Village
After a delicious breakfast at Roosevelt Lodge we have a big day ahead of us!
Today we intend to drive the Lower Loop around to Old Faithful then back across to Canyon Lodge to spend the night.
The drive to Canyon Village is another spectacular road climbing Mt Washburn. The views are amazing and there is still a lot of snow along some sections of the road.
We stop at the overlook with a signboard "Where is the Volcano?" – worth the stop to view the mountains.
Grand Canyon of the Yellowstone River
Just beyond Canyon Village is a highlight of Yellowstone National Park – the Grand Canyon of the Yellowstone River. There is a drive along the North Rim and also along the South Rim.
North Rim sights include:
Brink of Upper Falls
Brink of Lower Falls
Lookout Point
Grand View
South Rim sights include:
Artists Point
Uncle Tom's walk – closed during our visit
Drive from Canyon Village to Lake Village
This is another spectacular drive through the Hayden Valley – one of the best areas in the park to see wildlife. We see herds of bison and beautiful views.
Mud Volcano Area
It is well worth a quick stop at Mud Volcano and Dragon's Mouth Spring. Take the boardwalks to see both these sights.
Fishing Bridge & Visitor Information Centre – The Visitor Information Centre is another beautiful log cabin building with a museum and excellent information on this section of the park. There are wonderful views of Lake Yellowstone.
Lake Yellowstone Hotel
This beautiful Colonial Revival building is a National Historic Landmark and a great lunch stop. Meals are available in the lovely Lake Hotel Dining Room, or delicious sandwiches and snacks are available at the Lake Hotel Deli.
The Village Store is also a must see – another place for lunch, souvenirs and beautiful views of Lake Yellowstone.
Drive Lake Village to West Thumb
A short drive from Lake Yellowstone Hotel, we have a quick look at the marina however it is not yet open for the season.
The drive to West Thumb is very pretty with views of lake and mountains.
West Thumb
We decide not to stop at West Thumb today but will visit tomorrow as we drive along this route to exit the park on our way to the Grand Tetons National Park and Jackson.
Drive West Thumb to Old Faithful
Old Faithful Inn is another must-see in Yellowstone. It is a National Historic Monument – a log cabin style inn built of local logs and stone. We were very sorry not to be staying the night here. Be sure to have a wander around, eat in the Dining Room if you can or take the 45-minute tour (there are four a day – 9.30am, 11am, 2pm and 3.30pm).
Upper Geyser Basin
This area is called the Upper Geyser Basin and the big drawcard is Old Faithful Geyser (in front of Old Faithful Inn), however there is a lot to see by taking the boardwalk around the whole basin but you will need time to see it properly.
Old Faithful Geyser – erupts on average every 92 minutes. There is a clock inside Old Faithful Inn that gives the next eruption time.
Midway Geyser Basin
A short drive north of Old Faithful Inn, this is a highlight – one of our favourite stops. There is a half-mile boardwalk to see:
Excelsior Geyser Crater
Grand Prismatic Spring – Yellowstone's largest hot spring
Turquoise Pool.
Don't miss it!
Drive to Canyon Village
From Midway Geyser Basin we continue driving north on the Lower Loop, past Madison, and at Norris Geyser Basin we cut across to Canyon Village/Lodge where we spend the night.
YELLOWSTONE NATIONAL PARK – DAY 3 – MORNING ONLY
This morning we drive from Canyon Village to West Thumb and then out the South Entry of Yellowstone. From Yellowstone we will drive through the Grand Teton National Park and overnight in Jackson.
West Thumb Boardwalk
Well worth stopping here to see Bluebell Pool, Black Pool, Abyss Pool and lovely views of the lake with snowcapped mountains in the distance. We loved the fishing cone in the lake. The cone is filled with boiling water and in the days when fishermen could fish in the lake, they would cook their catch in the cone. At the moment the level of water in the lake is high due to snow melting.
The small shop/information centre is located in a cute little log cabin. The Ranger showed us a photo of what the cone looks like when the water level drops over summer – a lot more of the cone is showing – it is quite impressive.
We drive out the South Entry of Yellowstone.
Grand Teton National Park
While sad to leave Yellowstone, we are about to begin one of the most beautiful drives in the USA – through Grand Teton National Park!
For more information on touring Yellowstone National Park, please contact Dave Upton – dave@accommodationguru.com
AccommodationGuru.com
2-4 June 2018
Yellowstone National Park – Good to Know
Whilst the park is open year round, most roads are closed to vehicles from November to April.
Most facilities are open from May to September.
Wifi and mobile phone services are very limited in the park.
Distances:
– Upper Loop is 70 miles/113kms
– Lower Loop is 96 miles/155kms
– Grand Loop is 142 miles/229kms
Entrance fee to Yellowstone is US$30 for private non-commercial vehicles. We purchased a Pass for all National Parks in the USA for US$80.
Yellowstone Park Headquarters is located at Mammoth Hot Springs.
There are 12 Yellowstone General Stores located throughout the Park (petrol, groceries, take-away food, gifts, etc).
Trail Guide booklets on each area of Yellowstone are available from Visitor Centres throughout the Park – these provide information on sights, photographs and invaluable maps.
Visitor Centres/Ranger Stations are located throughout the park:

Albright Visitor Center, Mammoth Hot Springs
Old Faithful Visitor Education Center
Canyon Visitor Center Education Center
Grant Village Visitor Center
Fishing Bridge Visitor Center
Norris Geyser Basin Museum & Information Station
Museum of the National Park Ranger, Norris Campground
Madison Information Station/Junior Ranger Station
West Thumb Contact Station
West Yellowstone Visitor Information Center – just outside the park in West Yellowstone
Accommodation in Yellowstone National Park
Bookings for accommodation, dining and activities can be made on 307-344-7311 or at YellowstoneNationalParkLodges.com
Accommodation facilities are available in Yellowstone National Park at:
Roosevelt Lodge Cabins
Mammoth Hot Springs Hotel & Cabins
Canyon Lodge & Cabins
Lake Yellowstone Hotel & Cabins
Grant Village
Lake Lodge Cabins
Old Faithful Inn
Old Faithful Lodge Cabins
Old Faithful Snow Lodge & Cabins
Websites for Researching a trip to Yellowstone National Park