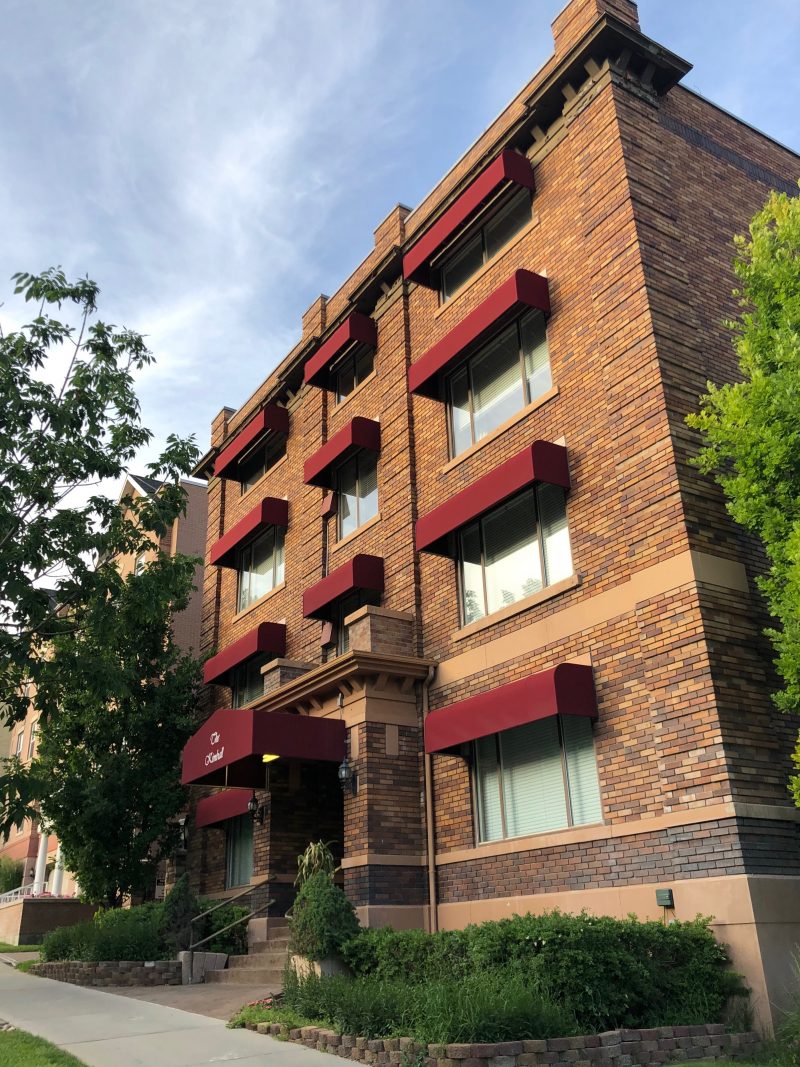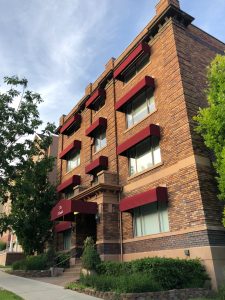 The Kimball has an excellent location – about 10 minutes walk from Temple Square and the central shopping area of Salt Lake City – City Creek.
On checking in, the staff at Reception are very friendly and helpful.
Photos of The Kimball Salt Lake City
Room 347
We are in Room 347 and on entering wonder where the bed is! We quickly realise it is in the wall – it is a pull down bed.
On entering our room, it seems we are walking into a living room – there is a sofa plus single armchair and the TV is on the wall. The large timber panel we see on the wall as we enter is the pull down bed.
Even with the bed down, the room is a good size.
There is a kitchen along one wall complete with cooktop, small refrigerator, dishwasher and microwave. Crockery, cutlery, pots and pans are supplied. There is also a coffee maker. There is a small glass table and two chairs which we use as our work desk.
There is a small cupboard off the living room/bedroom that has hanging space, iron, ironing board and spare blanket.
The bathroom door is near the kitchen and includes a vanity, shower above the bath and toilet. The ceiling in the bathroom is low, and lighting is over the basin and quite dim, so when having a shower there is not much light!
Our room is at the front of the building facing North Main Street. There is quite a lot of traffic and with the window open, there is a lot of traffic noise. There is also a constant noise that could be an air conditioner. We turn our air conditioning off (aircon can be controlled from within the room) but the noise persists. We would suggest requesting a room away from the street.
Parking
Parking is on site and free of charge – it is located at the side of the building in the open.
Stairs
We are on the 4th floor of the building and while there is a lift, once in the hallway, we encounter two sets of steps (7 steps) – one just as we get out of the lift (up) and another set near our room (down) – so while there is a porter's trolley provided for luggage, once we reach our floor, we then have to carry our luggage down a long corridor and up a set of steps and down another set of steps. When booking a room, if steps are a problem, it would be a good idea to request a room next to the lift to avoid the stairs.
The Kimball – Recommended
Our room at The Kimball is clean and comfortable and the location is in walking distance to many of the major sites and shopping precinct of Salt Lake City.
Book The Kimball in Salt Lake City
AccommodationGuru.com
5 June 2018