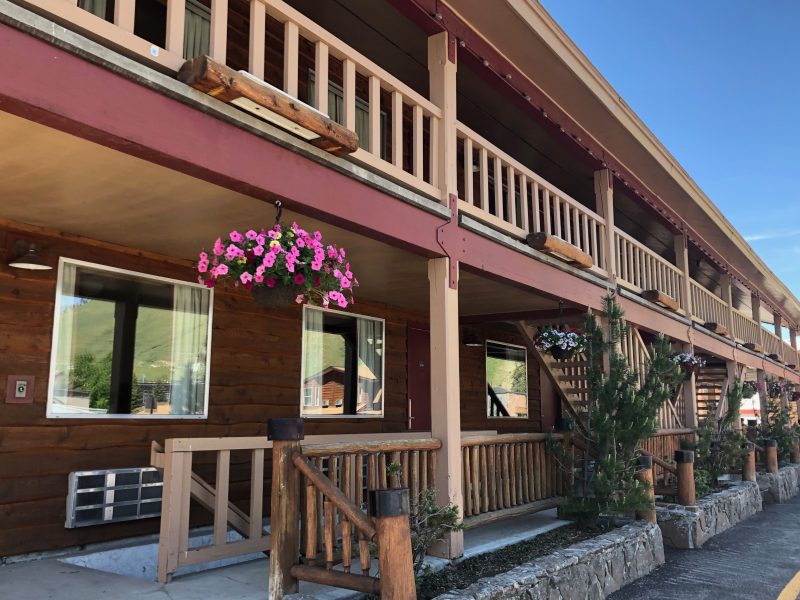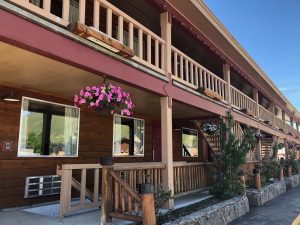 After a long day on the road we were glad to reach the Antler Inn located in the pretty downtown historic centre of Jackson.
We received a warm welcome and were kindly upgraded to a King Room – Room 156 – upstairs on the top level of a 2-storey building, one of three buildings that make up the motel. The property is well cared for and the flowering hanging baskets were a pretty touch.
We were able to park our car in front of the steps to our room.
Room 156
Room 156 was a large room featuring:
King bed with two bedside tables and lamps
A large rustic stone fireplace with timber mantel (wood supplied)
A large timber unit that includes wardrobe, drawers and a TV
Coffee maker, coffee, sugar and disposable cups
A timber desk and chair
A small refrigerator
A microwave
Hanging space and luggage bench
The bathroom had a shower and toilet, with the hand basin just outside the bathroom.
Room 156 had two entrances – one to the veranda and the other to the internal hallway.
The room was very clean, comfortable and good value for money in a town with very expensive accommodation.
WIFI was excellent – very fast and free of charge.
The location of the Antler Inn was excellent – in walking distance to the historic downtown centre and lots of restaurants.
Big Hole BBQ
For dinner, we wanted somewhere quick, easy and reasonable to eat – Big Hole BBQ Bar fit the bill. The ribs and chicken wings were delicious. There are a lot of restaurants in Jackson, and like accommodation, prices are high. Big Hole BBQ is a very affordable bar with a good atmosphere – just a short walk from the Antler Inn.
Antler Inn, Jackson – Highly Recommended
We can highly recommend the Antler Inn – it is clean, comfortable, well located and good value for money.
Book Antler Inn, Jackson 
AccommodationGuru.com
4 June 2018