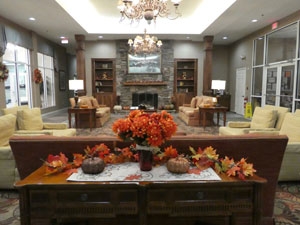 Vacation Village in the Berkshires is resort-style accommodation – made up of about 20 attractive New England-style timber buildings. Each building has a number of apartments available for guests.
We are visiting in the Fall and the location is very beautiful – we feel miles from the nearest town, there are views of the surrounding countryside and the air smells pure and fresh.
Reception is housed in the main building, which is reached via a large circular driveway. We arrive quite late however there are number of staff on reception to check us in, and they are helpful with information on what to see and do in the area, where to eat, etc.
We check into Room 704B – a spacious ground floor, one bedroom apartment with living room, kitchen, bedroom, bathroom and small balcony.
This is a large resort and guests drive to their accommodation and usually park out the front of their booked rooms.
Living Room
Comfortably furnished with 3-seater sofa (a sofa bed) plus single chair, gas fireplace, flat screen TV, coffee table, side table and lamp. We are able to choose the settings for the air conditioning from inside our apartment.
Kitchenette & Dining Area
The kitchenette features a large fridge, microwave, sink, toaster, coffee maker, blender and a plug-in double hot plate. While there is not much bench space it is serviceable. There is also a timber dining table and four chairs. Inside one of the cupboards there is an iron ironing board, broom and dustpan.
Bedroom
The bedroom is spacious and has a queen bed, bedside tables and lamps, wardrobe (inside there is vacuum cleaner, wash basket, safe, extra pillow and blankets). There was no window in the bedroom but there was a door opening onto the balcony.
Bathroom
Just off the bedroom there is a huge bathroom, which also has a door opening from the kitchen area. There is a vanity with mirror to the ceiling, toilet, shower over the bath and plenty of towels.
Laundry Room
While there is no laundry inside our apartment there is a laundry room just down the hallway.
Resort Facilities Include:
Indoor swimming pool – located off the Reception Lounge in the main building
Outdoor pool
Fitness room
Spa/Wellness Centre
Business Centre
Paid WIFI
Parking is free
Activities close by include horse riding, golf course and skiing (Jiminy Peak Mountain Resort).
Dining
There was no restaurant at the resort. The first evening we self-catered and the next evening we had dinner in North Adams (about a 30-minute drive) from the resort. We had spent the afternoon cycling the Ashuwillticook Rail Trail in Adams, and went on to North Adams to have dinner at The Public Eat+Drink – highly recommended (www.publiceatanddrink.com) at 34 Holden Street, North Adams MA 01247, Telephone 413.664.4444.
Vacation Village – Recommended
We can highly recommend Vacation Village in the Berkshires for its clean, spacious apartments in a beautiful setting. The resort makes a great base to explore the Berkshires and surrounding villages including Hancock, Stockbridge, Williamstown and North Adams. The drive up to Mt Greylock is also well worth doing in the Fall.
Vacation Village in the Berkshires can be found at 276 Brodie Mountain Road, Hancock, MA 01237, Telephone 413.738.2000
Photos of Vacation Village in the Berkshires
AccommodationGuru.com
7 & 8 October 2016