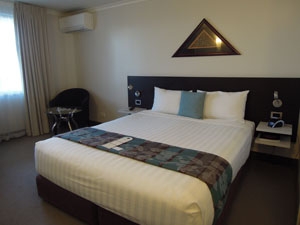 Jet Park Hotel is located about 5-10 minute's drive from Auckland Airport. It is a 4.5 star hotel that is reasonably priced, clean and comfortable.
This was a convenient hotel for us to stay at the beginning of our road trip around the North Island as it was close to the airport and to where we would pick up our rental van.
We flew from Sydney to Auckland and on arrival at Auckland Airport we used the courtesy phone at the I-Site shop to call the hotel to request a courtesy pick up.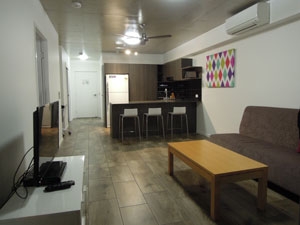 Pavilion on Brookes is just 12 months old and features one and two bedroom apartments in a 9 storey building located in the inner city Brisbane suburb of Bowen Hills.
The apartments are very good value for money, are conveniently located to the city and Fortitude Valley, are clean, fresh and well equipped. We can highly recommend a stay.
Pavilion on Brookes is a security building: we had a key to get into the building, an electronic tag to access our floor, and an electronic tag to access the garage.
We had a two-bedroom apartment on the 1st floor.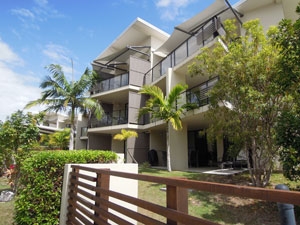 We arrived quite late at the Agnes Water Beach Club apartments and had to press the intercom at Reception to contact management. There was a quick and cheerful response, we collected the key, dropped our luggage and went off to have dinner nearby at The Tavern – one of the few places open at that time of night.
The Tavern serves very good pub food. We had the daily specials of rump steak/salad/chips for $15 and Chicken Schnitzel/salad/chips for $20 – excellent value for money.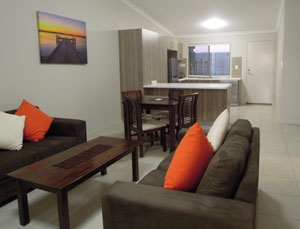 Villas on Rivergum is a relatively new development of 1 and 2 bedroom ground floor units on the outskirts of Emerald offering good value for money. We can highly recommend these villas if you are looking for clean, modern and self-contained accommodation.
We checked into Villa 4, a two-bedroom contemporary unit with open plan kitchen, dining and living area.
Bedroom 1 at the front of the villa had a queen bed, an ensuite bathroom and walk-in robe. The room was well furnished with bedside tables and bedside lamps, digital clock/radio. Toiletries were provided in the ensuite, and there was an extra pillow and blanket in the walk in robe.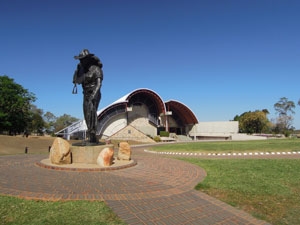 There is much to see and do in Longreach. It's a long drive to get there but if you have the time it's worth spending a few days – the region has a lot to offer.
Longreach is located in Central Western Queensland. It is sheep and cattle country – and tourism increasingly plays an important role in the town's prosperity. The most well known attractions are the Australian Stockman's Hall of Fame and the Qantas Founders Museum, however we found there is much more to Longreach than that if you are visiting during the tourist season.
The tourist season is from April through to October so it's best to plan your visit during that time, when most of the evening entertainment and tours are on.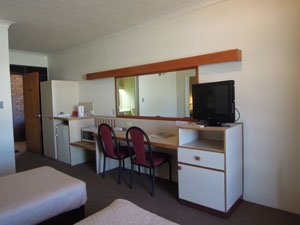 On a recent trip to Longreach, we stayed at the Longreach Motor Inn, a very large motel on two levels. We booked into Room 31, a family room with two rooms and a bathroom, on the upper level.
It was a comfortable room with plenty of space.
In the main room there were twin beds with bedside tables, a couple of luggage shelves and wardrobe.
In that room there was also a long bench/desk with bar-sized fridge, tea-making facilities, a microwave, television and air-conditioning system. A sliding door opened onto a small balcony where there was a small table and 2 chairs.