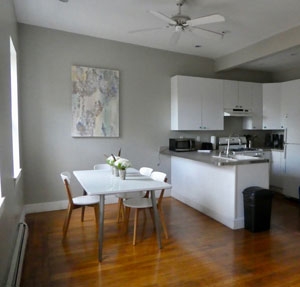 Boston can be an expensive city when booking accommodation. We managed to find a reasonably-priced, well located two-bedroom apartment for our two-night stay.
Our Boston apartment was located in a popular area – the South End district – on the corner of Tremont and Milford Streets opposite the Boston Center for the Arts. It's a great location with lots of good restaurants, the surrounding tree-lined side streets are very pretty and it's a quick drive to the city centre.
We are on the top floor (3rd floor) and it is a steep walk up to the apartment as there is no lift. The apartment has an open plan living/dining/kitchen area with modern furnishings. There are two bedrooms – one with queen bed and the other with a set of bunk beds.
The queen bedroom faces the street and has a small built-in wardrobe. It is quite a small room.
The bunk room faces the back of the property and has a small built-in wardrobe and a set of drawers. This room gets the morning sun.
There is one small bathroom with a shower over the bath. While there is no laundry inside the apartment, there is a shared laundry on the ground floor of the building.
The kitchen is well equipped with a large refrigerator, dishwasher, microwave, and stove/oven. There are the usual appliances – kettle, toaster and coffee maker.
There is a very effective heating system throughout the apartment and we are warm and cosy. For summer there is a free standing air-conditioning unit ducted to the outside through a window. There are also ceiling fans in the living room and both bedrooms.
There are timber floors throughout and lots of windows giving the apartment a light and airy feel.
It could be a very noisy apartment as Tremont Street is a busy road however with the windows closed there is no noise.
There are plenty of choices of eating places near the apartment. If you want to self-cater or buy gourmet takeaway food to enjoy in the apartment there are two recommendations:
Just across the road is Giorgiana's Gourmet Grocery Store – fresh fruit, vegetables, deli items, prepared meals, etc
South End Buttery, 314 Shawmut Avenue (about a 5 minute walk) – delicious prepared meals, salads, bread, cakes, etc
We also ate at Barcelona Wine Bar South End – just across the road from the apartment. This is a popular, very cool wine bar serving tapas plates to share.
If you have a car, street parking is subject to parking metres however there is a parking station nearby – the Impark Parking Station, 131 Dartmouth Street – about a 10-minute walk from the apartment. You can leave your car overnight (between 5pm-8am) for about Canadian $10.00.
We can recommend this apartment – it is good value for money in a city with normally expensive accommodation.
Photos of Boston Apartment at 534 Tremont Street.
AccommodationGuru.com
15-16 October 2016