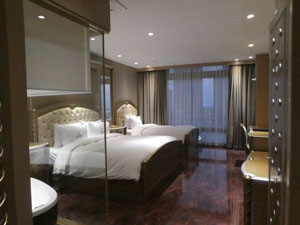 We stayed at The Central Park Hotel Songdo in Seoul as an STPC (stopover paid by carrier) flying Korean Airlines from Sydney to Prague.
The hotel was located about a 30-minute drive from Incheon Airport and we travelled to the hotel by bus, courtesy of Korean Airlines. On arrival we had a quick and easy check in at Reception.
The Central Park Hotel Songdo is a newish hotel – built in 2014. Our room was on the 9th floor – Room 918 – a very spacious room with two beds – one large bed and one a little smaller. They looked like a King Size bed and a Double bed size.
The room felt quite luxurious with furniture that was quite ornate and decorated in gold tones.
Along one wall there was a desk, a console for luggage with large television above it, a cabinet that contained a small bar fridge (not a mini bar), and a small wardrobe with two bathrobes and a shoehorn. Hotel slippers were also provided.
The bathroom had a large spa bath, basin, toilet and separate shower with both rain shower and hand-held shower, however no towel rails or hooks. The bathroom was unusual in that there was a glass wall between it and the bedroom (roller blinds provided for privacy). There was a hairdryer provided and a dispenser on the wall in the shower with shampoo, conditioner and body cleanser.
Plenty of amenities were provided – kettle, two cups, tea bags and coffee bags. Personal items included razor, shower cap, cotton swab, comb, toothbrushes, skin lotion and bubble bath. There was even a fire extinguisher and torch.
The air conditioning temperature could be controlled from within the room, but there were no opening windows. The air conditioner was very fresh and effective – good quality air. There were marble heated floors throughout for added warmth in winter.
Dinner was offered free of charge and consisted of an extensive buffet meal. An excellent buffet breakfast was also included.
Opposite the hotel is the Songdo Central park – a pretty outdoor space, a perfect place to stretch your legs.
On the morning of our flight from Seoul to Prague, we were collected from the hotel by bus at 10am (again courtesy of Korean Airlines) for our 12.45pm flight.
We can highly recommend The Central Park Hotel Songdo for an overnight stop. It is clean, comfortable and quiet. It is a great place to break the trip between Sydney and Europe.
Photos of The Central Park Hotel, Songdo
AccommodationGuru.com
18 May 2017