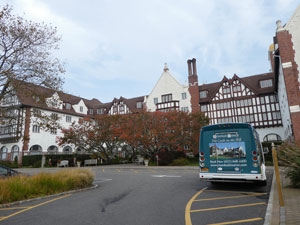 Montauk Manor is an historic condominium resort hotel located on a hilltop in the small community of Montauk on the eastern tip of Long Island (on the south shore or South Fork). There are 140 apartments available – from studios to 3 bedrooms. Apartments are individually owned so each is decorated differently.
We can't help but be impressed by the grand Tudor Revival building as we drive up the sweeping drive to check in. We receive a friendly welcome at Reception and book into Apartment 412 – a 2-bedroom apartment, with one bedroom actually in a loft.
The apartment has an open plan living/dining/kitchen area.
Living/Dining
The living room is attractively furnished with a three-seater navy sofa plus single chair. There is a coffee table, TV on the wall plus unit with DVD player. The dining table has four chairs and a bench – so seats six.
Kitchen
The kitchen is well equipped with a large fridge, dishwasher, upright stove with oven, cooktop and range hood above. There is a microwave, a kettle (for top of stove, not electric) and coffee maker. Nothing is supplied (no tea or coffee) – only 2 sachets of dishwashing liquid.
Bedroom One
One bedroom is on the same level as the living area. It is a large room and features a king size bed, bedside tables with lamps, a single chair plus side table, a low chest of drawers with TV on top and a wardrobe (with ironing board and luggage racks). There is an ensuite bathroom with basin, toilet and shower over the bath.
Bedroom 2
The second bedroom is accessed by a flight of stairs cleverly concealed behind a large mirrored wall in the living room, and is a loft-style set up. There is a double bed with bedside light on one side, a small walk in wardrobe and small, low chest of drawers with medium-sized TV on top. There is an ensuite bathroom with basin, toilet and shower over the bath – toiletries are supplied.
Facilities
Montauk Manor has an indoor swimming pool, spa and sauna. Coin operated washing machines and dryers are located on the lower level. In the lobby there are two computer terminals and a printer. The grounds feature amenities including a golf driving range, golf putting green, BBQ and picnic area. There is also an outdoor pool, tennis courts, and an exercise room.
Try to see the sunset during your visit – there is a beautiful spot at the front of the hotel to watch the sunset.
There is a restaurant on site – La Fine – however it is closed during our visit in November as it is the off season.
Parking & Courtesy Van
Parking was easy during the off-season however it must get very busy in season as there was a large car parking area near the tennis courts. If you don't have a car, there is a Courtesy Van available.
Dinner at Harvest on Fort Pond
On the recommendation of the friendly reception staff, we ate at a local restaurant called Dinner at Harvest on Fort Pond – www.harvest2000.com – which has Italian inspired food featuring local seafood and home-grown produce. We found it to be a very special experience and can highly recommend it.
Montauk Manor – Recommended
We were at Montauk Manor for only one night however we enjoyed our stay and found it to be a very comfortable, clean property with friendly staff – and excellent value for money.
Montauk Manor is at 236 Edgemere St, Montauk, NY 11954 USA, Telephone +1 631-668-4400 and is a good spot to stay to explore the Hamptons.
AccommodationGuru.com
2 November 2016