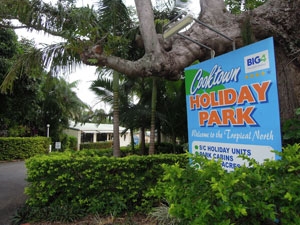 We are running late and the office at the Cooktown Holiday Park has closed when we arrive, so we ring the telephone number given on the office door. There is a quick response and we are given a warm welcome by Tammy. Tammy gives us an information pack on Cooktown and is able to recommend places of interest in the area. She seems genuinely proud of her town.
We set up camp on a grassy patch near the creek, with plenty of shade. The lawns and gardens are beautifully maintained. There are lots of trees throughout the campsite and hedges around the pool.
The shower block comprises spacious, unisex, individual shower rooms with shower, toilet and basin. In the same block there is a guest laundry.
The kitchen block is near the pool and has a lovely big tiled room open on one side facing the pool. There are stainless steel benches that include three gas BBQs, a cooktop, three sinks, microwave, kettles, toaster and a refrigerator. There are a number of white round dining tables and chairs, ceiling fans to keep us cool and a drink-dispensing machine. All amenities are spotlessly clean.
There is free unlimited wifi.
If you don't want to camp, there are cabins and motel-style units available.
It is beautifully breezy during our stay and we don't have any problems with mosquitos or sand flies.
The holiday park is a short drive from the centre of town where we have a delicious dinner at the Bowling Club.
We can highly recommend a stay at the Big 4 Holiday Park in Cooktown.
Photos of Cooktown Big 4 Holiday Park
Cooktown Holiday Park, 35-41 Charlotte Street, Cooktown QLD 4895, Telephone (07) 4069 5417 or Freecall 1800 255 162.
UPDATE 2018: This holiday park is no longer a Big 4 holiday park but is now part of the Top HolidayParks group. 
AccommodationGuru.com
20 May 2016