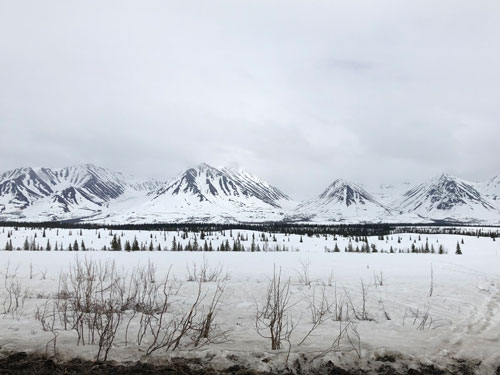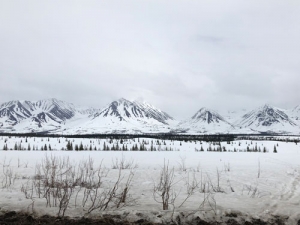 Alaska is a paradise for nature lovers, a place to experience beautiful scenery and amazing wildlife.
Have a look at our slide show of Alaska.
With just a short time to experience Alaska, we rented a car for 5 days from Anchorage and travelled to Homer, Seward, Girdwood and finally Denali – a highlight. To visit the Inside Passage we took a 7-day cruise on the Star Princess – sailing from Whittier (near Anchorage) to Vancouver.
To avoid the crowds, we like to travel out of high season when possible, so this trip we took in mid-May and spent about 12 days in Alaska.
While we chose to do a self-drive trip, if you prefer not to drive, Alaska has excellent rail tours – www.alaskarailroad.com
Flight to Alaska from Sydney, Australia
We found a very well priced flight from Sydney to Anchorage on Air Canada. It was a 14-hour flight from Sydney to Vancouver, then a 3 hour 20 minute flight from Vancouver to Anchorage. We did it in one hit as we like to get the flights out of the way, however a stopover in Vancouver for a couple of days would be a great way to break the trip.
Anchorage
We spent very little time in Anchorage, as Alaska to us was about seeing the countryside and the wilderness. However, there are excellent day trips from Anchorage to see glaciers, wildlife, etc. Visit the Tourist Information Office at the airport or downtown (Visit Anchorage Information Center, Fourth Ave and F Street), to pick up a copy of their excellent local guide:
Official Guide to Anchorage Alaska and Surrounding Areas – published annually by Visit Alaska
For Alaska generally, other guides we found useful were:
Alaska.org Activity Guide (www.alaska.org/alaska-activities-guide)
Bell's Travel Guides: Alaska 2018 Mapbook (BellsAlaska.com)
Lonely Planet Alaska, 12th edition May 2018
Our accommodation in Anchorage was the Comfort Inn Downtown, Ship Creek, which was better value for money than other Anchorage accommodation – which we generally found rather expensive. The Comfort Inn Downtown has a good location opposite the Railway Station and on Ship Creek where in summer people fish for salmon. It is also at the beginning of the Ship Creek Trail, and the Ulu Factory is next door. However, if you don't have a car, it is an uphill walk to the town centre.
For dinner we can highly recommend Glacier Restaurant & Brewhouse (www.glacierbrewhouse.com/) – excellent meals and atmosphere.
Drive Anchorage to Homer
Driving time from Anchorage to Homer is just over 4 hours, however give yourself as much time as possible as there is much to see along the way.
Turnagain Arm
The drive to Homer from Anhorage begins by taking the scenic Seward Highway. The highway, at the base of the Chugach Mountains, follows Turnagain Arm (part of the Cook Inlet) giving wonderful views.
There are many places of interest along Turnagain Arm and many pullovers including:
Potter Marsh – part of Anchorage Coastal Wildlife Refuge, there is a boardwalk giving access across the marsh – a great place to see birds.
Beluga Point Lookout – stop to photograph the views
The 'ghost forest' – a legacy of the 1964 earthquake that resulted in the land sinking 6 to 10 feet – trees were flooded with sea water resulting in a ghost forest.
Alaska Wildlife Conservation Center (alaskawildlife.org) – we made a quick stop here to see Alaskan wildlife (just in case we didn't see any in the wild!).
Following the signs to Homer, we took the Sterling Hwy and stopped for lunch in Soldotna. We can highly recommend Odie's Deli for lunch – http://odiesdeli.com/ and The Moose is Loose Bakery for something sweet – www.facebook.com/TheMooseIsLoose1/
After Soldotna, the scenery became fairly uninteresting – the road was lined with trees and no views.
However, things changed just before Homer – be sure to pull into Baycrest Hill Lookout for spectacular views of Kachemak Bay, and Homer in the distance. There are some interesting information boards on the Bay and five active volcanoes that can be seen on a clear day.
The website – www.alaska.org/guide/anchorage-to-homer – gives a detailed guide of the Anchorage to Homer drive.
Homer
We reached Homer late in the afternoon and had booked accommodation at Land's End Resort – at the end of The Spit in Homer.
Homer has a great feel. It was still early in the season (mid-May) and we found that some activities had not yet started so you may consider visiting from 1 June onwards.
Halibut Cove and Seldovia were not open to visitors, and bear viewing trips to Katmai National Park were not operating – they operate from June to September.
However there is still plenty to do and we can recommend:
Pratt Museum – a must see
Explore The Spit including Salty Dawg Saloon
Ptarmigan Arts gallery
Firewood Gallery
Historic Old Town – don't miss Two Sisters Bakery!
Bishop's Beach and the Beluga Slough Trail
Visitor Information Center for excellent advice
Drive along East End Road at dusk to see moose grazing – it doesn't get dark until around 10.30pm
Alaska Islands & Ocean Visitor Center
Out of season, most restaurants are closed by 9pm in Homer however we found Don Jose's Mexican Restaurant was open until 10pm and can recommend for good food and generous servings.
Homer was a long drive from Anchorage and while we loved it, if you are short on time, you may consider staying in Seward instead – it's only about a 2.5-hour drive from Anchorage. We visited Seward on our way back to Anchorage.
Drive Homer – Seward – Girdwood
After a delicious breakfast at Duncan House Diner in Homer (www.duncanhousediner.com/), we got away at 9.30am – unfortunately it was overcast and raining.
Ninillchik
We made a stop at the tiny settlement of Ninilchik – about 45 minute's drive from Homer. From the Sterling Hwy, take a left onto Mission Ave to see the fishing huts then out onto the Sterling Hwy again and take a left onto Orthodox Ave to see the charming Russian Orthodox Church.
The drive to Seward was along the same route as we had driven to Homer until just after we crossed the bridge over the lovely Kanai Lake and turned onto the Seward Hwy towards Seward – about 43 miles. There are beautiful views of mountains and lakes along this section of the highway.
Seward
On arrival in Seward, the first port of call was the Visitor Information Centre – on your right as you get to Seward.
There are three special things to do in Seward:
Take a boat trip to the Kenai Fjords National Park to see tide water glaciers and wildlife. There are two main boat companies that do the trip. The trip offers wildlife viewing including humpback whales, sea lions (calving at this time of year), orcas, harbour seals, sea otters, porpoise, marine birds sheep and goats. Alternatively you can take a plane or helicopter over the glaciers.
Exit Glacier – the Visitor Centre at Exit Glacier was due to open on 26 May 2018 (the date varies each year). As we were there on 16 May we were a little early.
Visit the Alaska Sea Life Centre – which is also a rehabilitation centre for injured wildlife.
We only had a couple of hours in Seward however would recommend booking a night or two at least to do it justice.
After a delicious lunch at the charming Zudy's cafe overlooking the bay, we took a drive to Lowell Point for lovely views back to Seward.
The town of Seward is very charming with old-fashioned buildings, murals, a beautiful waterfront park and walking track.
Still raining, we left Seward in the late afternoon – back on the Seward Highway (a Scenic Byway) heading back in the direction of Anchorage however we made a short detour to overnight in Girdwood.
Girdwood
Girdwood is only about 45 minutes drive from Anchorage – just off the Seward Highway. It is a very pretty place and a ski resort in winter. We stayed at the wonderful Alyeska Resort for one night – on our way to Denali National Park.
There are two sections to Girdwood – the small settlement (with some good restaurants) around the chairlift a short drive from the Alyeska Hotel, and the Girdwood village across the river – centred around Hightower Road. There are lots of ski lodges, chalets and private homes in the area.
For meals, we can recommend Jack Spratt Restaurant for dinner and The Girdwood Picnic Club or The Bake House.
Drive Girdwood – Talkeetna – Denali
To drive straight through to Denali from Girdwood would take just under 5 hours, however we planned to stop at Talkeetna on the way (Talkeetna is 14 miles off the highway one way so allow about 45 minute extra driving time to stop there).
Leaving Girdwood, we followed Turnagain Arm and passed through Anchorage. It was another overcast day however that didn't dull the beauty of the drive.
Talkeetna
We drove for about 2.5 hours before taking the turn into Talkeetna. Just before Talkeetna we stopped for lunch at the Flying Squirrel Bakery-Café. We can highly recommend this cosy place for its home-made soups, bread, cakes, muffins, sandwiches, etc.
The town of Talkeetna is an attractive town of adventure tour operators, gift shops, cafes and quaint buildings. Points of interest include:
Walter Harper Talkeetna Ranger Station where climbers must register before climbing local peaks including Mount McKinley (Denali)
Talkeetna Historical Museum
Talkeetna Brewing Company – another good place to eat
Roadhouse Bakery – can be very crowded but good food
McKinley View South Lookout
About one hour from Talkeetna, on the way to Denali, don't miss stopping at the McKinley View South Lookout (at Mile 135.2 on the Parks Highway) for views of the Alaska Range, including Denali. It's worth taking the short walk to the upper viewpoint.
The views along the Parks Highway from there to Denali are spectacular – especially on the Broad Pass around Mile 195.
McKinley or Denali?
Denali was the original native Alaskan name for North America's highest peak however in 1886 it was re-named Mt McKinley. After years of controversy, the name of the mountain was changed back to Denali in 2015 (Denali means 'the high one').
McKinley Chalet Resort, near Denali NP
From McKinley View South Lookout it was another 1hr 45 mins driving to the small settlement of Nenana Canyon where we would spend 2 nights at McKinley Chalet Resort – 1.5 miles from the entrance of Denali National Park.
Denali National Park
At 20,310 feet, Mount Denali is North America's highest peak and the national park is a spectacular wilderness area of just over 6 million acres.
We had just one day to spend at Denali and took one of the national park bus tours – the Denali Natural History Tour – the only one on offer during our visit in mid-May (too early in the season for other tours to operate). We can highly recommend it.
Take a look at our blog on Denali National Park for some tips on how to best spend your time at Denali National Park.
Denali National Park was a highlight of our visit to Alaska and one day is not enough if you want to walk one of the many trails, see the dog sled demonstration, or take a full-day bus tour into the park.
Drive Denali to Anchorage
We had an early start for the 4.5-hour drive back to Anchorage where we returned our hire car to Avis at the Anchorage Airport. Again, the scenery was so beautiful near Denali, we made many stops to take photographs – especially along Broad Pass and at the McKinley South Lookout.
Bus from Anchorage to Whittier Cruise Terminal
After lunch at the airport, it was a short walk to catch the 3pm A.C.T. Big Bus (Alaska Cruise Transportation) – to Whittier where we would join the Star Princess cruise down the Inside Passage to Vancouver.
We can highly recommend the A.C.T. Big Bus – the commentary by Peter, our guide, was excellent – we learnt so much about Alaska. The road to Whittier follows the beautiful Turnagain Arm along the Seward Hwy, then the Portage Glacier Road to the Anton Anderson Memorial Tunnel. The tunnel has one lane only and is a shared road/rail tunnel. The bus company booked their passage through the tunnel for 4.30pm. It took six minutes to drive through the tunnel and as we emerged on the other side, we had arrived in Whittier.
Whittier
The weather was too miserable to walk around Whittier. It cannot be described as an attractive place however it is unique with just over 300 people living there – 95% of whom live in one building called the Begich Tower.
On arrival at the Whittier cruise terminal, our luggage was unloaded off the bus, and baggage handlers labelled our bags with our cruise ship cabin number, loaded the bags into a shipping container and they were delivered to our cabin on the Star Princess within the hour.
Star Princess
Embarkation was a quick and easy process and we were soon in our cosy Balcony Stateroom on the Star Princess, looking forward to the next 7 days exploring Hubbard Glacier, Glacier Bay, Skagway, Juneau, Ketchikan and finally Vancouver.
For details of the cruise, please see our blog on Star Princess – Alaskan Cruise (coming soon).
If you would like to know more about touring Alaska, please contact Dave Upton at dave@accommodationguru.com
AccommodationGuru.com
May 2018