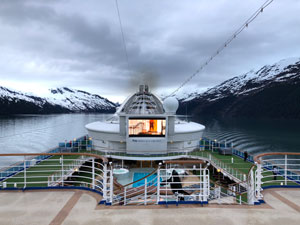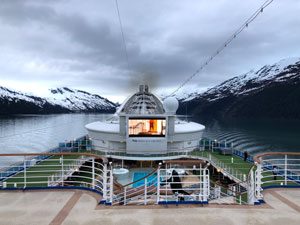 In May 2018 we did a wonderful 7-day Star Princess Alaskan cruise through the Inside Passage. This was part of a self-drive trip through Alaska and several USA National Parks and after much research, we decided that a one-way cruise from Whittier (Alaska) to Vancouver (Canada) through the Inside Passage was the best way to travel this leg of the trip.
We are usually independent travellers and were a bit hesitant about taking a cruise, however we were very pleasantly surprised!
Balcony Suite, Lido Deck, Level 14
As the ship would travel down the Inside Passage, to make the most of the views we booked a balcony suite – on the left hand side of the ship. Our cabin was on the Lido Deck, level 14.
Walking into our cabin, we were pleasantly surprised – it was more spacious than we imagined and was very well designed.
The bathroom was off to the left as we entered. Just outside the bathroom was an open wardrobe where we could hang clothes and store luggage – it also served as a dressing room and had a full length mirror, lots of coat hangers, a top shelf, plus a small cupboard with shelves and a safe for storing valuables.
Walking through to the main room, we had a King-sized bed, bedside tables and lamps. A mirror panel on one wall gave a sense of space in the room.
We also had a desk plus a comfortable chair. There was a mirror above the desk and a hairdryer to one side, so the desk also served as a dressing table.
We had a small cabinet housing a bar fridge, tray with two tumblers and tongs. Above that was a large flat-screen television. Also provided was a small, round side table and an extra chair.
While it sounds as though we had a lot of furniture in our cabin, it was not overcrowded.
On the balcony there were two comfortable outdoor chairs and small table. Going out to the balcony was a large, glass sliding door – wonderful to have the view, fresh air and the sound of the sea.
The bed and bedding were exceptionally comfortable. It was such a cosy cabin and a wonderful retreat.
We liked being on Level 14 as we had easy access to the outside decks plus Horizons Restaurant where we ate breakfast and lunch at the buffet most days.
The stairs and lifts were nearby to access other floors.
The service to the room was excellent. Our steward cleaned and provided fresh towels twice a day.
Balcony Suite, Star Princess – Highly Recommended
We can highly recommend the balcony suite. It was spacious, comfortable and very well designed. It was wonderful to have a balcony from which to view the glaciers and the passing scenery.
Restaurants
Prior to joining the ship, we chose what is called Anytime Dining as opposed to Traditional Dining. These dining options are included in the cost of the cruise. Traditional Dining is when you choose to dine at a specific time and to be seated at the same table for the duration of the cruise. Anytime Dining is where you can dine anytime during the open sitting hours and you will be seated with different people each sitting. We dined in the Capri and Portofino dining rooms and thought the meals were excellent. There was a set menu, plus additional menu each day usually offering specialities of the port of call.
Speciality Dining
For a small additional fee, you can choose to dine at speciality restaurants including Crown Grill, Sabatini's Italian Trattoria and Trident Grill. These were also good value for money.
Casual Dining
The Horizon Court was a great venue for casual dining featuring a delicious buffet every day for breakfast, lunch and dinner. There was also Prego Pizzeria, International Cafe and Sundaes Ice Cream Bar for casual meals.
Bars, Clubs & Lounges
There were 11 bars, clubs and lounges on the Star Princess. The Crooner's Bar, the Vista Lounge and the Explorer's Lounge were the venues we frequented for the excellent live entertainment.
Entertainment
We loved the on-board entertainment – it surpassed our expectations. We spent several evenings at the Princess Theatre for shows including comedy, "From Aretha to Whitney" soul music, musical productions, etc. At other venues we enjoyed 'The Voice' auditions, 'Piano & Cocktails', jazz, tributes to the Bee Gees, Elton John and much more. 
Princess Patter
Princess Patter is a daily guide to what's on, weather guide, shore excursions, etc. It is delivered to each passenger's cabin every day and is invaluable for planning your day.
Excellent Staff
What significantly added to the enjoyment of the Star Princess cruise was the outstanding staff. From the captain to the wait staff – all were personable, professional and friendly.
AccommodationGuru.com
19-25 May 2018