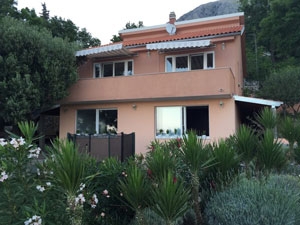 When visiting Dubrovnik, we stayed at Villa Bon Vivant, on the coast at Mlini – about a 15-minute drive from Dubrovnik.
We were on a self-drive trip and had been advised that parking was difficult to come by at Dubrovnik and it was a good idea not to stay in the city itself.
We booked Villa Bon Vivant as it was a short ferry ride into Dubrovnik.
Arriving in Mlini, it was difficult to find our accommodation – it was down a steep driveway that was a bit daunting at first but we soon got used to it.
The villa is ideal for a group of friends or family travelling together. It is over two levels with five bedrooms and three bathrooms in total.
Each level has its own entrance and there is space for about three of four cars.
Upstairs
The upstairs level is actually the level you walk into from the car spaces.
There are two double bedrooms and one single bedroom on this level, with a large bathroom with bathtub, and a second smaller bathroom that includes a shower and washing machine.
There is a large living room with sofas and large well-equipped kitchen – both opening onto a balcony with an outdoor dining setting and lovely views of the sea.
Downstairs
There are two double bedrooms downstairs, a bathroom with shower, and a large open plan kitchen/living room. Off the well-equipped kitchen there is an attractive BBQ area with an outdoor dining setting.
The villa was very comfortable and the only downside was that if you are staying as one large group, there is no internal access between upstairs and downstairs.
Beach
An added bonus of staying at Villa Bon Vivant is that you can access a couple of beaches by walking down a path (a little steep) from the villa.
Ferry to Dubrovnik
The ferry into Dubrovnik leaves from a jetty near Hotel Plat just a five-minute drive from Villa Bon Vivant (there was a car park near the hotel).
On our visit, there were two separate ferry operators at the jetty, offering a similar service. It is a good idea to ask each of them which ferry departs for Dubrovnik first. We paid a fare of 80 Kuna return.
Eating Out
Villa Bon Vivant is about a 10 minute drive from the beautiful seaside village of Cavtat where there are some very good places to eat out including Restaurant Leut and Dolium Pizzeria & Restaurant.
For self-catering there are a couple of supermarkets within a 10-minute drive of the villa. We shopped at the supermarket on the way to Cavtat and found it very good.
[pe2-gallery album="http://picasaweb.google.com/data/feed/base/user/104129372723891271851/albumid/6244285968954406225?alt=rss&hl=en_US&kind=photo" ]
AccommodationGuru.com
16 & 17 May 2015